Ravara and Levin Sources
Join the World's Trusted Vendor Network
Levin Sources has partnered with Ravara, an easy-to-use and secure cloud-based supply chain network and interface. Together, we ensure that you and the enterprises you work with are fully vetted and in alignment with best practices in responsible business conduct. This begins with your basic compliance needs and expands to international standards and Environmental, Social and Corporate Governance (ESG) performance – we offer due diligence for your entire supply chain.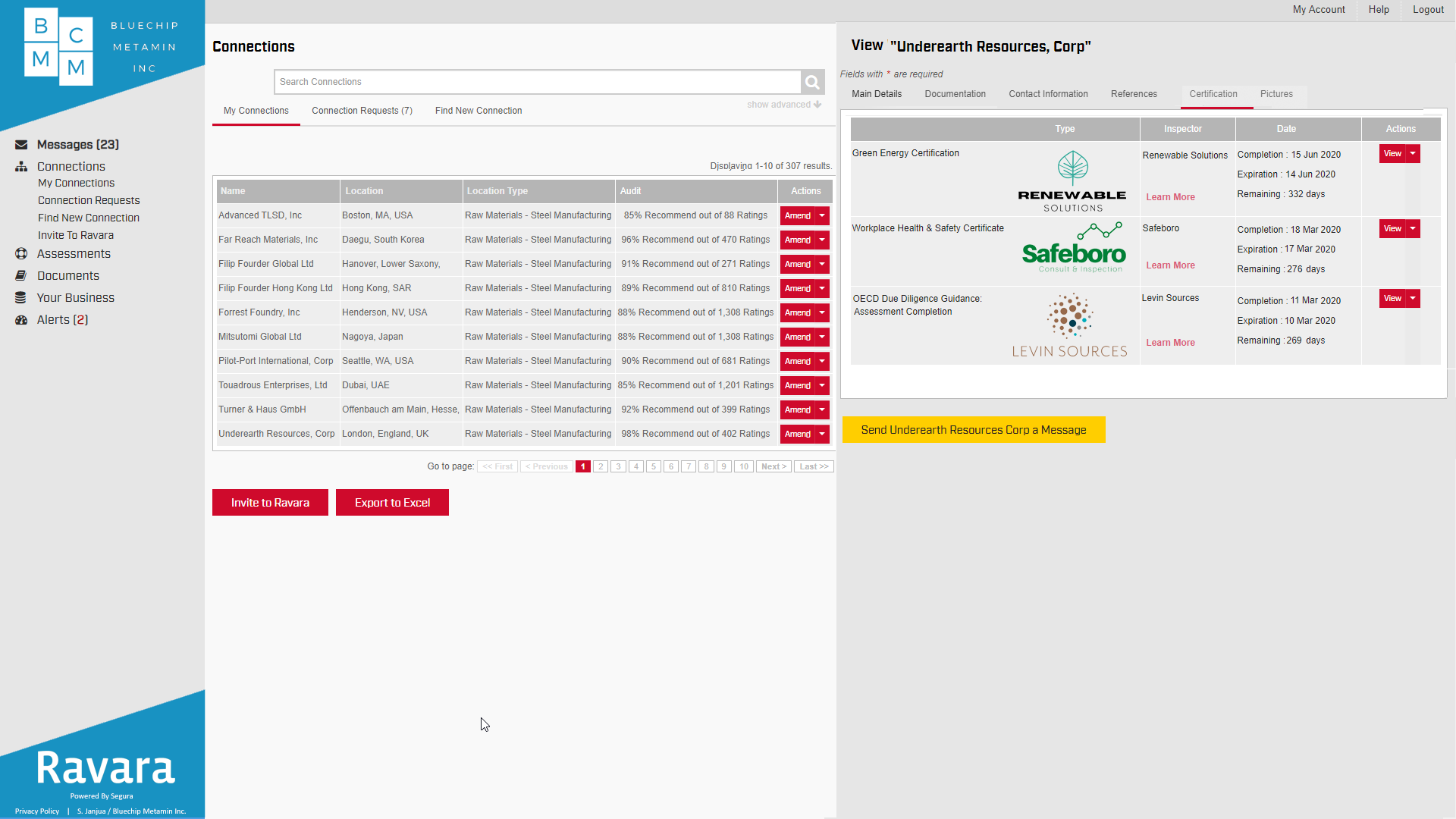 How does Ravara Work?
Ravara features validated companies who have completed a rigorous vetting process. Based on our extensive experience supporting responsible sourcing of minerals from high risk regions and sectors, Levin Sources' experts, supported by proprietary algorithms, assess compliance gaps, check the quality of your management systems and risk controls, and ensure your practices meet the standard – and your business partners' expectations. We answer the critical questions: Does your business meet the mark? If not, how do you get there?
We offer a detailed assessment of your compliance with the OECD Due Diligence Guidance for Responsible Supply Chains of Minerals for Conflict-Affected and High-Risk Areas (OECD Due Diligence Guidance). Our offering is continually expanding, including mineral and sector specific standards in diamonds, gold, cobalt, ASM, industrial mining, minerals trading jewellery, green technology, and more.
What Problems are we Solving Generally?
Problem

How We Help

Good risk management in business relationships always matters. In a period of economic upheaval and uncertainty it is even more essential to manage risk well, but this likely requires extra effort as that disruption generates new risks.

If you are facing supply chain disruption or foraying into new markets, we help you vet new business partners quickly, affordably and reliably.
We help you reduce the cost of carrying out regular due diligence on your existing business partners.
Our internal audit of your compliance with relevant standards helps you correct issues and be audit-ready.
Our due diligence team comprises people of diverse backgrounds with country, issue, sector and mineral specific expertise.

Downstream businesses often need to evidence compliance with multiple standards to respond to business partners' needs. This is time consuming and costly.

We act as a one-stop shop repository of compliance and risk management evidence for business partners.
We save you time and effort finding and sharing all relevant information with auditors and business partners.
What Problems do our Supply Chain Due Diligence Tools solve?
Due diligence can be a barrier to getting business done

We make the due diligence process easy and cost effective for you and your supply chain partners
The result: you can do business more quickly and with confidence.

Good due diligence may require multidisciplinary or local knowledge to uncover your hidden vulnerabilities; you don't know what you don't know.

Our goal is to help you understand your risks and what to do about them, so your risk controls are fit for purpose and effective.
We help you identify your blind spots

Check box due diligence may get you past an audit, but it won't mitigate your risks leaving you exposed.

Our due diligence assessments will flag issues that require actions by you or your business partners.
You can use the findings to mitigate risks effectively.

Ineffective due diligence undermines confidence in business decisions, may generate liabilities and can destroy value.

Our supply chain due diligence tools are tried and tested with industry leaders and SMEs.

Due diligence can be cumbersome and costly, especially if you're sourcing from higher risk provenances or if your supply chains have been disrupted.

Our supply chain due diligence tools were designed to make sourcing from higher risk provenances such as Conflict-Affected and High Risk Areas (CAHRAs) and Artisanal and Small-scale Miners (ASM) more feasible.
Our goal is to be inclusive of responsible producers operating in tough places - if the bar is too high they can't participate; if the bar is too low you may be carrying unacceptable risk.
How to use Ravara:
Find Trustworthy Business Partners
It's an easy, affordable and quick way to find trusted business partners that have been vetted for compliance with recognised responsible business conduct frameworks and standards, such as the OECD Due Diligence Guidance. It enables you to check business partners' compliance documents and Levin Sources reports, knowing they will be regularly updated.
Make New connections: Find Trusted Vendors & Buyers Who Meet The Validation Standard
Sync with vendors: Ensure Compliance, Streamline Documentation
See vendor ratings: Updated In Realtime, View Validated References
Validate your supply: Effectively Maintain Supply Chain Transparency & Sustainability
Demonstrate your Trustworthiness to your Business Partners
Use Ravara to validate your business, identify due diligence gaps and understand how to address them in order to meet international standards. Once you've registered, it facilitates new business as vendors can easily check your credentials.
Validate your business: Build & Manage Your Reputation, Establish Credibility In The Industry
Who is Ravara?
A leader in supply chain technology with a secure and proprietary software platform in use in over 80 countries.
Together, we are a dynamic partnership, trusted by household brands, governments, and trade organizations that ensures that you and the people you work with are fully vetted and in alignment with best practices in responsible business conduct.