To incentivize investment in new supply chain investment models for responsible gold originating from the DRC and pilot new approaches to overcome specific identified barriers in scaling the export of responsible artisanal gold from the country, USAID's Zahabu Safi project has now launched a Responsible Gold Innovation Facility (RGIF).
Zahabu Safi is now are inviting organizations seeking to finance activities that will unlock specific barriers to producing and exporting responsibly sourced ASM gold from eastern DRC to apply to the Catalytic Grants Window of the RGIF.
Catalytic Grant Window schedule
It will accept concept notes until June 4th, 2021, and will review them in three rounds, against the timetable below. Funding awarded must be implemented by September 30th. Applications will be accepted on a rolling basis, with deadlines for receipt and review as below: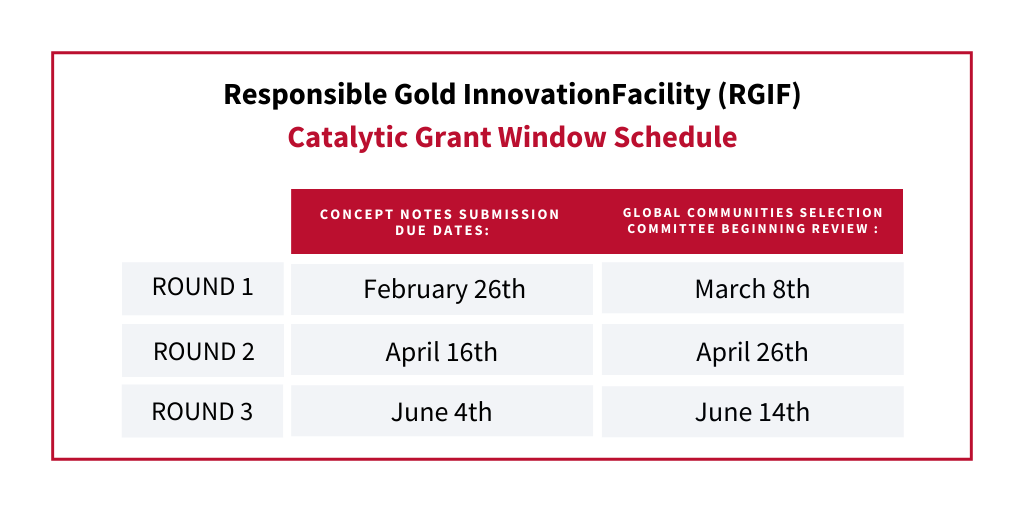 As part of this grant window, the Zahabu Safi programme will prioritize activities designed to strengthen and de-risk commercial linkages between ASM Cooperatives/other small-scale mining groups and responsible ASM gold buyers (local and international). Supply chain actors are encouraged to apply.
Two additional grant windows are planned:
A Debt/Equity Investment window - a blended finance mechanism that will require established partnerships with local financial institutions (via a loan guarantee facility) to create finance and enterprise solutions to the commercial barriers to exporting responsibly-sourced ASM gold from eastern DRC.
A Corporate Philanthropy/Social Responsibility window - a social investment partnership with multinational companies designed to support livelihoods and economic development initiatives in ASM communities.
To find out more, including how to apply, examples of potential recipients and activities for the Catalytic Grant and the expected monitoring and evaluation, visit the links below.