2020 left the jewelry sector shaken. The economic impacts of COVID-19 left many jewelers struggling to rebuild sales. As consumer demand for jewelry fell, the cost of gold peaked. At the same time, the moral and ethical issues raised by Black Lives Matter also trickled down to the sector. Several jewelers made the link between tackling systemic injustices and using supply chains which include artisanal and small-scale mining (ASM) gold to support livelihoods of Black miners in regions such as eastern Democratic Republic of the Congo (DRC); and interest in ASM gold increased.
Yet even though there is a desire to buy ASM gold, USAID's Zahabu Safi (Clean Gold) Project heard first-hand how jewelers are constrained by commercial, practical, logistical and compliance barriers—often beyond their control. However, a market analysis carried out by the project shows that jewelers are increasingly aware that—if they can carefully select gold from responsible ASM sources—they can play a role in changing lives for the better. At the same time, jewelers are increasingly willing to engage with supply chains that are not yet perfect.
USAID's Zahabu Safi Project is on a mission to build demand for responsible, conflict-free ASM gold from eastern DRC. To uncover what jewelers in the United States and Canada see as barriers that need to be overcome to allow them to confidently source ASM gold from eastern DRC, the project partnered with Christina T Miller Sustainable Jewelry Consulting to learn how we could help build supply chains that meet jewelers' requirements.
While there are over 40 million ASM miners globally, only a tiny fraction can meet the highest standards of responsible sourcing. Nonetheless, 75 percent of the jewelers we interviewed recognize that the only way to improve mining practices and living standards for ASM communities is to start engaging with them. Jewelers instinctively understand the concept of progressive improvement that those working to improve sector standards are keen to encourage. Of course, serious supply chain risks must be identified, addressed and mitigated. From there, with public and private sector support, ASM can be included in a company's sourcing strategy.
USAID's Zahabu Safi Project champions this continuous improvement model. The project helps miners in eastern DRC produce ASM gold to responsible standards, develops robust supply chains and creates markets for ASM gold. The need to link jewelers to responsibly sourced ASM gold through responsible supply chains is integral to achieving the project's three main objectives:
Increasing demand for and co-investment in responsibly sourced ASM gold from eastern DRC.
Increasing the volume of exports of responsibly sourced ASM gold from eastern DRC; and
Improving the commercial viability of ASM gold cooperatives.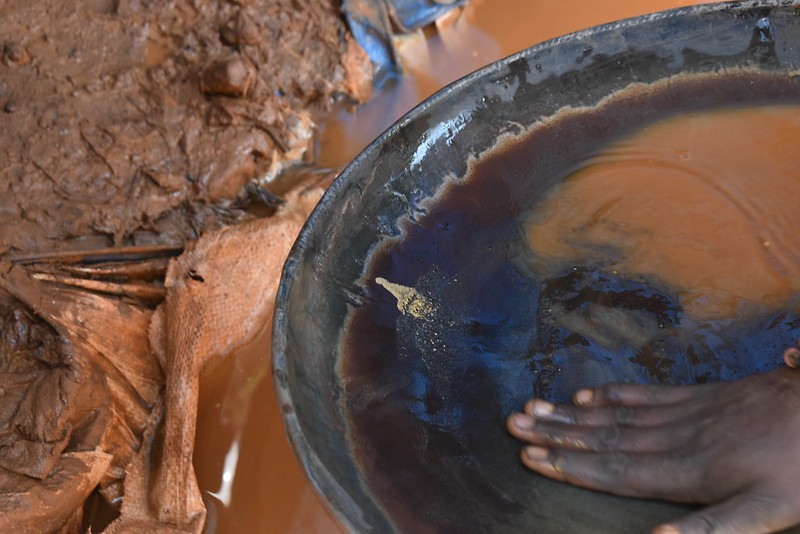 Barriers that Zahabu Safi must help jewelers overcome

"It's too expensive." "Customers don't ask for it." "I can't find a manufacturer that will work with it to make my pieces."
These are just some of the reasons that jewelers gave for being wary about buying responsible ASM gold.
In recent years, a powerful trend towards using recycled gold has emerged in the ethical jewelry space; it is easier to market to customers as eco-consciousness grows. However, ASM gold is a harder sell, and responsible provenances are often more expensive than recycled gold. In addition, jewelers then have the tricky world of standards, due diligence, and figuring out what responsible sourcing means in practice.
Small jewelers have been bewildered with a limited conception of responsible supply chains beyond third-party certified initiatives. A lack of familiarity with the costs and challenges associated with building a supply chain from or through fragile countries can mean that jewelers are asked to take on board processes that are simply unfeasible in the short or even medium term. While bigger brands have due diligence systems in place, they told us that sourcing from countries like the DRC could cause them to face restrictions from their banks; and the gold could be flagged when they are audited against industry certification schemes.
How Zahabu Safi is helping address these barriers
USAID's Zahabu Safi Project's team recognizes that jewelers' sourcing decisions are not taken in a vacuum. Over the next two and a half years, we will tackle the barriers they face, with the goal of facilitating commercially viable ASM gold supply chains from eastern DRC that may serve to inspire others to #engagewithASM.
We aim to facilitate relationships between actors all along the supply chain, including through events like the April 2021 panel held jointly with the Black in Jewelry Coalition. We are in the process of setting up a jewelers community which will support everything from sharing experience and learning to sourcing gold collectively. We will also provide jewelers with storytelling and marketing materials they need tell the positive story about the gold they are using to develop their responsible jewelry.

Sign up to our newsletter here for regular updates on how we are collaborating with cooperatives and miners in the DRC working with the mid- and downstream actors to create a market for the gold they produce.
If you're a jeweler interested in learning more about Zahabu Safi and getting involved, please contact nduncan@globalcommunities.org or rachel.brass@levinsources.com.