To spread the spirit of empowerment and inclusion across the entire mining value chain and to bring about beneficiation, the Association of Women In Mining in Africa (AWIMA), a network promoting the leadership, inclusion and sustainable empowerment of women in extractive industries, has launched the AWIMA Jewellery Project.
The Project opened with the inaugural AWIMA Jewellery Design Competition which seeks to unearth the vast female design talent on the Continent of Africa and its Diaspora.
In January 2021 African female designers were invited to submit a brooch inspired by the theme; "A Symbol of solidarity that unifies and honors Women in mining in Africa". The competition provides a one-of-a-kind platform for celebrating the resilience of African women in mining while using innovative ideas to partner with African female designers and jewellers.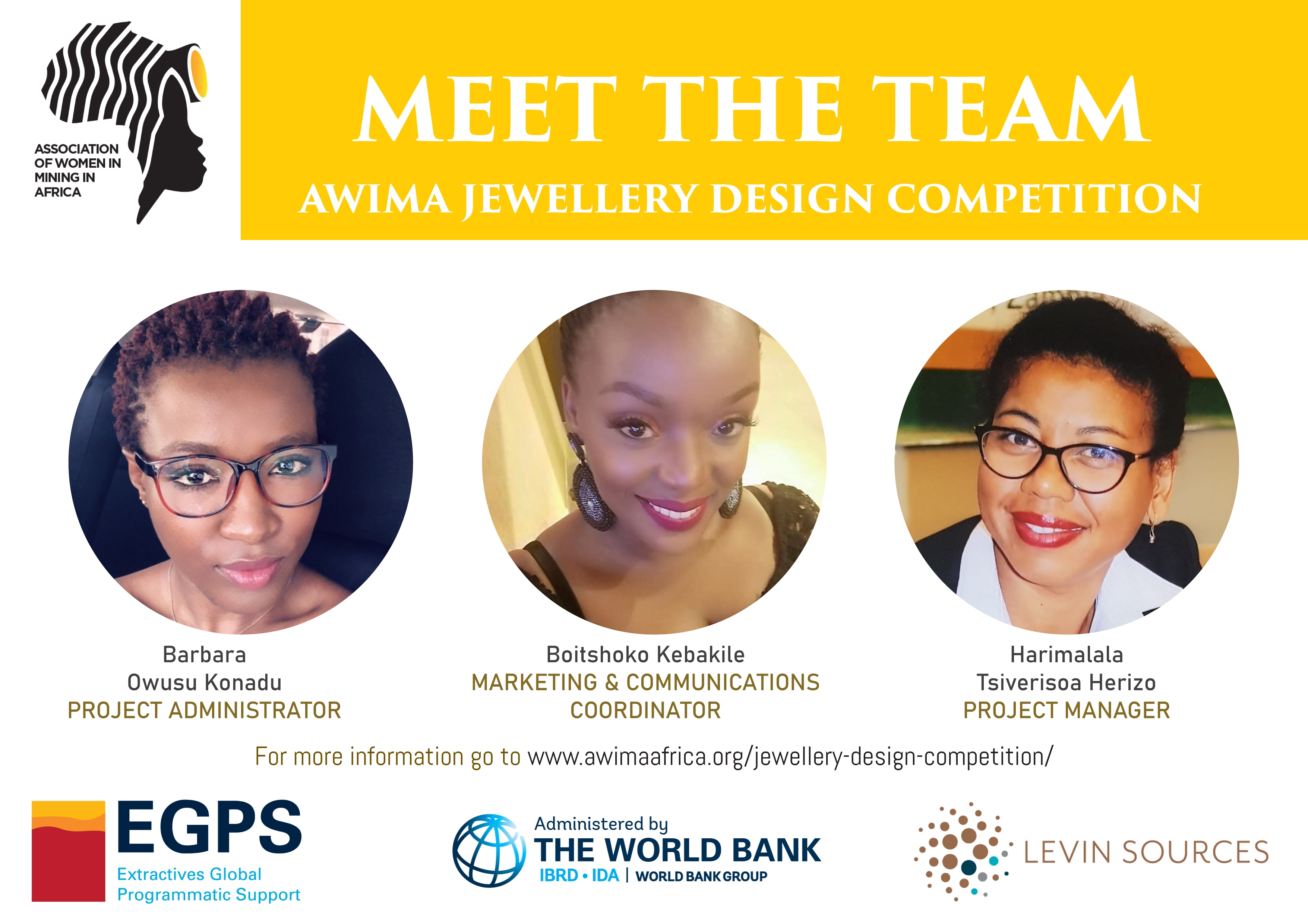 "Women in Africa are dominant consumers of jewellery and powerful players in the jewellery value chain. However, there are many challenges that discourage or limit their participation .We are excited to create a platform to illustrate the excellence of our continents' creativity in jewellery making and celebrate the brilliantly gifted women involved." Said Georgette Barnes Sakyi Addo, President of AWIMA.
The winning design, "Lady Aya" was made by Ngone Sagne, a Senegalese Jeweller. Ms Sagne`s design was not only the unanimous selection of the panel of judges, it also received most of the 2,300 votes from the public to win the "'People's Choice Award".
"Lady Aya" was selected from a highly compelling pool of 70 submissions from around the continent. They were judged based on their originality and ability to eloquently capture the spirit and essence of both the theme and AWIMA's mandate of promoting women-led supply chains in the mining, gem and jewellery industries. It will be manufactured by African jewelers using raw materials exclusively sourced from African artisanal and small-scale miners. Proceeds from its auction will go towards ASM communities in Africa.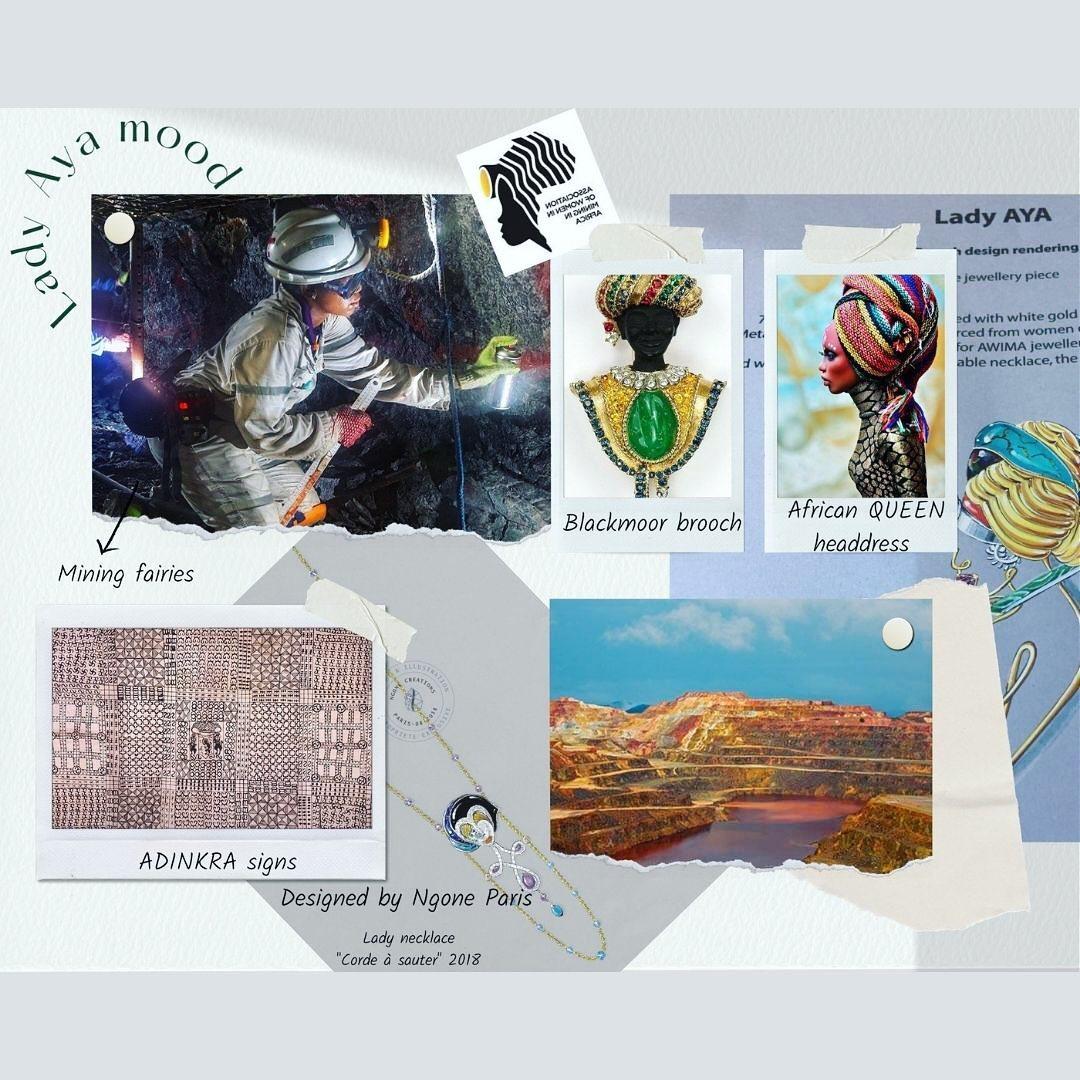 The AWIMA Jewellery Project is supported by the World Bank's Extractives Global Programmatic Support (EGPS) Trust Fund, in partnership with Levin Sources. It builds on the increasing global demand for ethical products. It is aligned with and delivering on the African Union's Agenda 2063, the United Nations 2030 Agenda for Sustainable Development and the African Mining Vision. Further, it aims to be an antidote to the devastating impact of the COVID-19 pandemic upon women in Africa particularly those in Artisanal and Small-scale Mining (ASM) communities.
Through the project, support is provided to highly vulnerable miners living and working in remote rural areas. The adverse economic shock that COVID-19 presents threatens the enormous progress that ASM communities have undertaken to formalize the sector, and AWIMA aims to mitigate this shock while simultaneously celebrating their resilience.
Founded in 2015 in Nairobi, Kenya, AWIMA now has over 20 national women in mining association members across Africa from north, south, central, east and west. With this Jewellery Project, it is primed to be a force of powerful change in Africa, and to the Woman of AWIMA, we say Aluta Continua, and Gods Speed!
For updates on the process of creation of Lady Aya Brooch, follow AWIMA on LinkedIn, Instagram, and Twitter.

About the author:

Boitshoko Kebakile holds a Double Major BA Degree in International Relations and Applied Economics from the University of Witwatersrand. She is a graduate of the Okavango Diamond Company (ODC) Youth Entrepreneurship Programme and is an Enterprise Sustainability certificate holder from the ITC SMME Academy.She is currently pursuing a Diamond Grading Certification with the GIA.
Ms Kebakile has 11 over years' experience as a metal smith, Creative Director and CEO of House of Divinity, which is a semi-precious stone jewellery brand based in Botswana.
A Vogue-featured jeweler, who currently serves as the spokesperson for the Jewellery Manufacturers Association of Botswana (JMAB), an active member of The Association of Women in Mining in Africa (AWIMA), and is currently serving as Marketing & Communications coordinator of their 2021 AWIMA Jewellery Design Competition.