Here at Levin Sources, we are keeping a close, analytical eye on the multitude of upcoming European Union and US legislation that is transforming the landscape of corporate due diligence and supply chain sustainability and management. These regulations will cover a wide range of areas, from issue-specific topics such as forced labour and climate change to wide-sweeping, broad-based due diligence obligations that are sector-agnostic and will apply to tens of thousands of corporations. As always, we'll provide a unique perspective into how these regulations will impact global mineral value chains, sustainability and mining.
We are launching this blog series to provide commentary, insights and analysis on how our clients, colleagues and readers can better understand what companies, governments, investors, civil society and other stakeholders can expect from the evolving regulatory framework and the quickly transforming due diligence landscape.
First up, let's explore two pieces of EU legislation that will drastically impact how companies both manage and report on their efforts related to mandatory due diligence obligations regarding human rights, environmental impacts and associated corporate governance reforms. The two EU directives outlined below are meant to work together and be applied in parallel by corporate entities: the first as a framework for what due diligence obligations certain corporations will bear, and the second as a framework for how companies will be required to report on these obligations.
Understanding the EU's Corporate Sustainability Due Diligence (CSDD) Directive
The EU's Corporate Sustainability Due Diligence (CSDD) Directive is a broad-based reform that establishes a corporate due diligence duty for companies to identify, prevent, end or mitigate negative impacts of their operations on people and the environment. The CSDD Directive's purpose is to "foster sustainable and responsible corporate behaviour and to anchor human rights and environmental considerations" in companies' activities and within their corporate governance structures. The aim of the CSDD Directive is to support the EU's transition to a climate-neutral and green economy, as outlined in the European Green Deal and in alignment with the UN Sustainable Development Goals. The European Commission adopted the proposal for the CSDD Directive on 23 February 2022.
To comply with the corporate due diligence duty, companies must:
integrate due diligence into corporate policies;
identify actual or potential adverse human rights and environmental impacts;
prevent or mitigate potential impacts;
bring to an end or minimise actual impacts;
establish and maintain a complaints procedure;
monitor the effectiveness of due diligence policies and measures; and
publicly communicate on due diligence implementation.
The CSDD Directive will apply to a company's own operations, its subsidiaries and their supply chains, including direct and indirect business relationships. The Directive introduces duties for directors to set up and oversee the implementation of due diligence processes and integrate due diligence into official corporate strategy. As part of the duty to act in the best interest of the company, directors will now have to take into account the human rights, climate change and environmental impacts of business activities. The rules of directors' duties will be enforced through existing Member States' laws on director obligations and violations thereof.
The rules on corporate sustainability due diligence will be enforced through administrative supervision by Member States' designated authorities, which will be authorised to supervise and impose "effective, proportionate and dissuasive sanctions", including fines and compliance orders. Regarding civil liability, Member States will be tasked with ensuring victims are eligible for compensation for damages resulting from violations.
Companies in scope for the proposal include:
all EU limited liability companies with 500 or more employees and €150 million or more in worldwide net turnover (Group 1)
limited liability companies operating in defined high-impact sectors, including mining and extractives, agriculture and textiles, that have more than 250 employees and a net turnover of €40 million or more worldwide (Group 2).
For Group 2 companies, rules will take effect two years later than for Group 1 companies. The Directive will also apply to non-EU companies that are active in the EU and have an EU-generated turnover threshold aligned with Groups 1 and 2. Small and medium enterprises (SMEs) are not directly in scope for the proposal.
About the Corporate Sustainability Reporting Directive (CSRD)
A second EU proposal, the Corporate Sustainability Reporting Directive (CSRD), serves as the major reporting obligation associated with the CSDD. The CSRD establishes a network of reporting and disclosure requirements on a range of sustainability issues, from the company's plan to ensure compliance with net zero targets to due diligence implementation to the role of the board and management in sustainability matters.
The CSRD proposal was published in April 2021, and related EU Sustainability Reporting Standards are expected to be published in June 2022 by the European Financial Reporting Advisory Group (EFRAG). The reporting standards will correspond to indicators in the EU's overarching Sustainable Finance Disclosure Regulation (SFDR) and build upon indicators in the EU Taxonomy Regulation.
The proposed CSRD will amend the Non-Financial Reporting Disclosure (NFRD) of 2014 by extending the scope of reporting requirements to additional companies, including all large companies (listed or not) and listed SMEs; requiring companies to report in line with the mandatory EU sustainability reporting standards; ensuring the information is disclosed as part of companies' management reports; and introducing an EU-wide audit assurance of the sustainability information reported. Notably, the CSRD means to improve upon the NFRD by reframing the reporting obligations from a "collection of non-financial topics for reporting" to the mandate to report on both "sustainability matters" as well as their "principal impacts". A major aim of the CSRD is to, for the first time, create a common reporting framework for sustainability data, with the goal of making companies more transparent about and accountable for their impacts on people and the environment by improving the way sustainability information is reported and improving the quality of the information disclosed. Another objective is to create reliable, comparable and relevant information on sustainability risks, opportunities and impacts that may be used by investors, NGOs, and others to better understand the realities of business and investments on people and the environment.
The scope of the CSRD is even broader than the CSDD Directive in that any "large company" in the EU must report. In the EU, a company is defined as large, and is therefore in scope under the new mandatory reporting directive, if it meets at least two of the following criteria:
€40 million in net turnover;
€20 million on the balance sheet; and/or
250 or more employees
Companies not incorporated in the EU but with securities on EU-regulated markets are also in scope for the reporting directive. Companies will likely need to start reporting in 2024, based on information from the 2023 fiscal year.
How the CSDD and CSRD interact
The CSDD and CSRD are meant to be applied in tandem by corporate entities. While the CSDD outlines mandatory due diligence companies must implement regarding human rights and environmental impacts along their supply chains, the CSRD serves as the major reporting vehicle by which companies will report their relevant sustainability activities. Both proposals reference the UN Guiding Principles on Business and Human Rights (UNGPs) and the OECD Guidelines for Multinational Enterprises (OECD Guidelines) as foundational international due diligence frameworks.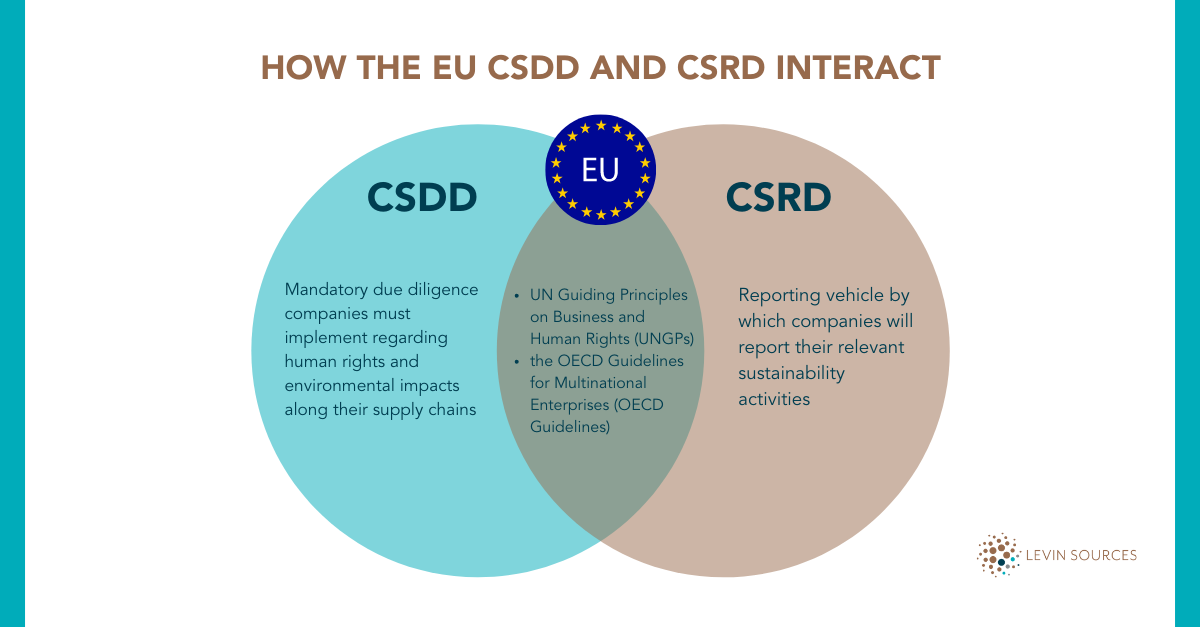 Exploring the limits of the CSDD and CSRD
Critiques of the CSDD claim the Directive will be limited in impact if it only applies, as the current proposal suggests, to "established business relationships" instead of the full spectrum of a company's supply chain. Article 1 of the proposal defines the scope of "established business relationships" to include those that are "lasting" and based on the intensity or duration of the relationship; this will not include business relationships determined to be a "negligible or merely ancillary part" of a company's supply chain. However, this narrowed, novel scope risks focusing due diligence inquiries into the nature and character of a business relationship rather than focusing on the most severe risks and impacts to people and the environment in a company's supply chain. This untested legal concept may have the unintended effect of leaving out impacts to farmers, women, miners, informal workers, subcontractors and other often marginalised groups at the beginning of the supply chains. Further, companies may be incentivised to concentrate due diligence efforts on business relationships where they have the most leverage, such as with direct suppliers, rather than prioritising the most severe human rights and environmental risks and impacts that occur anywhere along their supply chains, as outlined in the UNGP and OECD Guidelines. Another critique is the proposal overlooks the gender dimensions of due diligence, although research shows women and girls are often disproportionately affected by the adverse impacts of business activities. Adding a gender lens component to the Directive, such as reference to the Gender Dimensions of the Guiding Principles on Business and Human Rights, could address this oversight.
A central critique of the CSRD is that it will cover only a minimal portion of the investments European asset managers make, as the rule will apply to European-based assets but not those based in Asia or the Americas, for example. The global implication for this is that while European-based firms will be under additional financial sustainability reporting obligations, those in external jurisdictions will not. This means investors, asset managers, and others will continue to lack crucial sustainability data for a wide berth of entities.
Interestingly, both initiatives are stark examples of the movement of the so-called "soft law" of business and human rights (spearheaded by the aforementioned UNGP and OECD frameworks) being translated into hard law, meaning the development of mandatory corporate obligations that are legally enforceable and may result in penalties (such as sanctions or fines) if violations are found. This emerging "new normal" of corporate hard law obligations means companies and investors that are not actively preparing by implementing and updating robust human rights and environmental due diligence systems may be left behind in this quickly evolving landscape, while at the same time exposing themselves to increased risks and liabilities.
How Levin Sources can help you implement the CSDD and CSRD
What does the above mean for companies building sustainable, valuable and equitable mineral value chains? Companies should be actively preparing for the imminent regulatory changes, including reviewing their internal processes and procedures and, if necessary, adapting their due diligence management and compliance systems accordingly. The company should be getting clear on how its current due diligence systems satisfy the upcoming requirements, as well as what updated systems will need to be put in place in anticipation of the forthcoming legal requirements.
Levin Sources regularly works with clients to analyse relevant industry frameworks and develop due diligence management systems for responsible mineral value chains. We engage with clients and other stakeholders to build due diligence processes aligned with responsible business conduct, including forecasting regulatory trends and conducting gap assessments as to what due diligence systems currently exist and what systems must be developed within a company for full regulatory compliance. Feel free to contact us with any questions your company may have regarding its responsible sourcing practices.
In summary, the responsible sourcing landscape has reached a critical period where we are seeing a move away from narrow due diligence mandates and adherence to bare minimum requirements to a broader mandate around human rights and environmental due diligence in a wider sense. This move has in large part been spearheaded by the transformation of the "soft law" of business and human rights under the UNGPs and OECD Guidelines into hard law, replete with penalties and enforcement mechanisms, of EU corporate legal mandates and responsible business requirements.
Businesses that are already prepared for the upcoming changes will be rewarded by being compliance-ready and resilient in a time of tumultuous supply chain management and business continuity challenges. These entities will also be investment-ready and in line with investors' ESG standards. For the mining and minerals sector in particular, that means going beyond supplier questionnaires and audits to fostering a comprehensive due diligence approach and developing company cultures in alignment with the standard set by the law and global norms. This includes truly engaging with mineral value chains in a collaborative fashion, getting at root causes for adverse risks and impacts, and using leverage effectively, with a view toward improved, evidence-based outcomes for people and the planet.