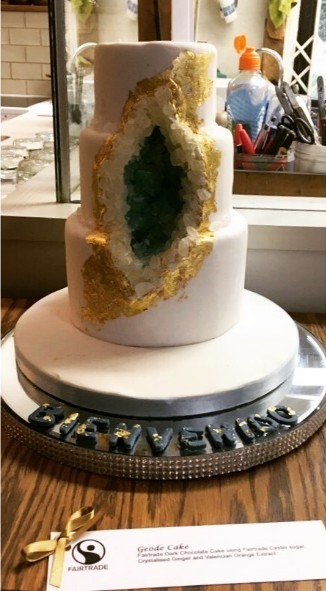 What a cake! Created by Silver Leaf Desserts of Hitchin
What does a typical first day at work look like? A day of inductions, handshakes and endless new names?
Not at Estelle Levin Ltd.
As our first insight into the industry, ELL took its two new junior staff members to a Fairtrade Festival organised by Harriet Kelsall Bespoke Jewellery.
An avid supporter of Fairtrade products, Harriet Kelsall organised this event to raise awareness of Fairtrade Gold, her beautiful converted barn studio decorated with her unique pieces made with ethically sourced materials.
I found it incredibly moving to see the commitment to Fairtrade Gold that united all the speakers and is reflected in their lives. It was clear that the mission of Fairtrade Gold was more than just an aspect of their business practice and a cause that they fight for to reach people beyond themselves. - Kate Macleod
Most people are aware of Fairtrade foods such as coffee, tea and fruits, but few know that less frequently purchased commodities such as gold are also part of the fair trade scheme. Fairtrade Gold was launched in 2011, and committed jewellers like Harriet are working towards firmly establishing it in the UK jewellery industry.
After getting to know fellow members of the industry over Fair Trade coffee, we had the honour of hearing some personal experiences of miners from across the world. Roger Arcos, a miner from a Fairtrade-certified gold mine in Peru, and Dajhanna Zarate de la Cruz, the daughter of a gold miner in Peru, shared with us their views on how the Fairtrade certification has changed their mining communities.
The job of a miner is a difficult one, often with severe dangers involved; it is physically strenuous labour, prone to accidents and can cause health complications particularly if using mercury in the mining process.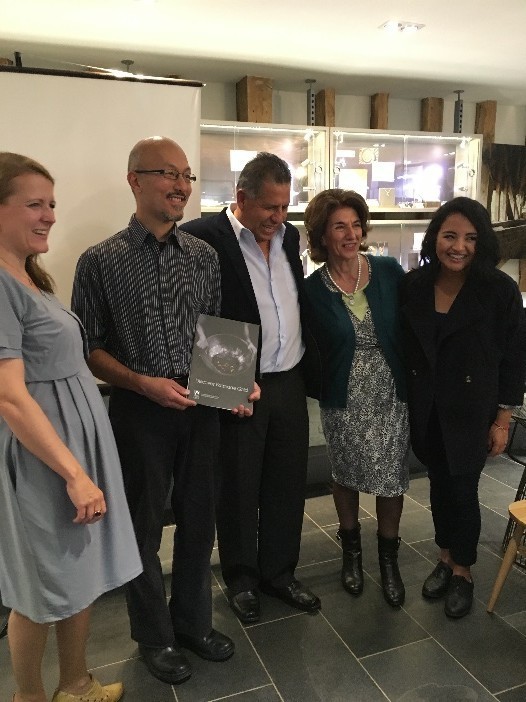 From Left to Right: Harriet Kelsall, Sandeep Joshi (Supporter Services Officer at the Fairtrade Foundation), Roger Arcos, Teresa Suttill and Dajhanna Zarate de la Cruz
In order to obtain the Fairtrade certification, these two mining communities have had to get rid of all mercury from their mines, implement health and safety protocols, ban child labour and use more environmentally-friendly technology.
In exchange for these social and environmental improvements, artisanal miners like Mr. Arcos and his community receive the Fairtrade minimum price for their gold plus an additional Premium.
This increased income has been invested in Roger's and Dajhanna's communities, who as a result have seen improved school facilities and electricity in homes thanks to the higher profitability that their mined gold can provide them after going Fairtrade.
The event provided a rare opportunity to interact with stakeholders from opposite ends of the supply chain and make the connections between the work of a miner in Peru and the beautiful jewellery displayed all around the venue. - Kate Macleod
The event was undoubtedly inspiring to all who attended; from jewellers to the children of St Joseph's Primary School (a Fairtrade school!). . Insights from both Fairtrade Gold miners and Harriet, with her expertise in the jewellery industry, helped to link the different stages of the gold manufacturing process together - and see the impact of choices of individuals like myself make in the lives of people like Roger.
The rise of Fairtrade gold in the jewellery industry brings optimism to the upstream end of the supply chain where it can catalyse tangible improvements to miners and their communities. It is therefore very encouraging to see more people, buyers and jewellers alike, incorporate ethics into their luxury choices and, in the words of Harriet herself, "say 'I do' to Fairtrade".