This summer, alongside writing our 2022-2023 carbon footprint report, our Environmental team reviewed the language we use to explain our environmental commitment. Inspired by the EU draft Directive on Green Claims and UK guidance on environmental claims, we wanted to ensure that our reporting of emissions, environmental policy and actions is accurate and specific.
Air travel remains our largest source of carbon emissions
A voluntary process: Since 2017, we have chosen to monitor our carbon footprint, following the guidelines of the Corporate Greenhouse Gas Protocol, in order to understand our environmental impact and to undertake actions to minimise emissions. This is documented in our environmental policy, first drafted in 2019.
Flight emissions: Our latest report highlights how project-related air travel remains our greatest share in emissions, although we have managed to halve emissions since the pre-pandemic years. We prioritise working with local associates and digital meetings, yet there are times when project delivery benefits from our experts travelling. Therefore, air travel is likely to remain our largest source of emissions in the near future.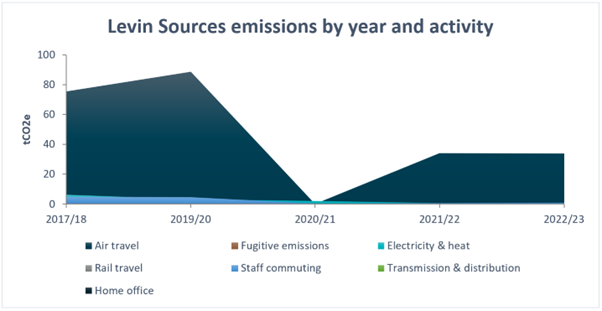 Offsetting: For the third year running, we offset our emissions via ACES Vanga Blue Forest project, an accredited scheme that has protected 460 hectares of mangroves and community development projects to date. Levin Sources is aware that offsetting is not the solution to the climate change crisis, and, in some cases, can worsen the situation. This is why we approach offsets in the best way possible to overcome risks and challenges. A description of the methodology used to offset can be found in the carbon footprint report.
Stakeholder awareness raising and capacity building: In June 2022, we ran an internal meeting on the 2021/2 carbon footprint report. We will continue doing this every year, as it is the best way to onboard team members and engage them in conversations around targets, commitments, and environmental policy reviews. Our environmental commitment also features prominently in onboarding literature shared with new staff members, is included in our supplier contracts and is communicated to our prospective clients in our sales literature.
B Corp certification: Over the reporting period, we gathered evidence of our environmental practices for the B Corporation assessment, which we completed in Q2 2023. We are planning to use the B Corp dashboard and its focus on the UN SDGs as part of our ongoing reporting process.
Assessing how we communicate our environmental commitment
Across sectors, there has been an increase awareness and scrutiny of the risk of corporate greenwashing when making environmental claims over the past few years. A 2020 EU study found that over half of environmental product claims were misleading, vague or unfounded. This has led the European Commission to draft a Directive to address inflated claims about the environmental credentials of businesses and products. The UK, where we are headquartered, has also issued guidance for businesses making environmental claims in the country.
As a result, we reviewed the language we use to communicate our environmental commitment and actions. The language in our carbon reporting to date aligns with the UK guidance and EU draft Directive, but we elected to apply two clarifying edits:
We replaced references to "carbon neutral" because the terms of carbon neutrality and zero carbon are sometimes understood as being the same and interchangeable. Instead, we now explain how we are moving towards carbon neutrality by "compensating for our caused emissions by contributing to ACES mangroves offset".
We include detail on the ACES offset scheme methodology used for offset accounting.
We hope that this language edit helps clarify what we do, and that by explaining our process in this blog, we can encourage and empower other SMEs to review their environmental claims and reporting methodologies to combat greenwashing and, in turn, help address the climate crisis.
Mobilising these learnings to the benefit of our clients
In 2022-3, Levin Sources advised an Indian jewellery manufacturer, on the development of its first climate change policy and action plan using all we have learned as part of our own climate risk management journey to drive greater change. If you are an SME minerals-related business, and need guidance on carbon accounting and reporting that is fit-for-purpose, we are happy to offer our services.