As part of our new blog series tracing the supply chain, Jane Barnett shares the story behind her ethical ring: of selecting ethical gemstones in Sri Lanka with Nineteen48 - before returning home to get them set them in Fairtrade gold with HK Bespoke.
---
I am now the proud owner of an ethical ring; created by HK Bespoke, designed by me, gifted by nature.
Owning a piece of bespoke jewellery has always been a dream of mine (one you probably share). I was, however, daunted by the reality of this. The potential cost alone was enough for me to keep this dream at just that, a fantasy, and nothing more.
But it can be something more. I recently discovered that I was wrong to be quite so daunted by this process. And it was this realisation, and the consequent journey I have been on, that I want to share with you. Because I am now the proud owner of an ethical ring; created by HK Bespoke, designed by me, gifted by nature.
It all begun on holiday (as the best stories do).
Not the Average Holiday: Heading to the mine site
2016 got off to a great start for my family.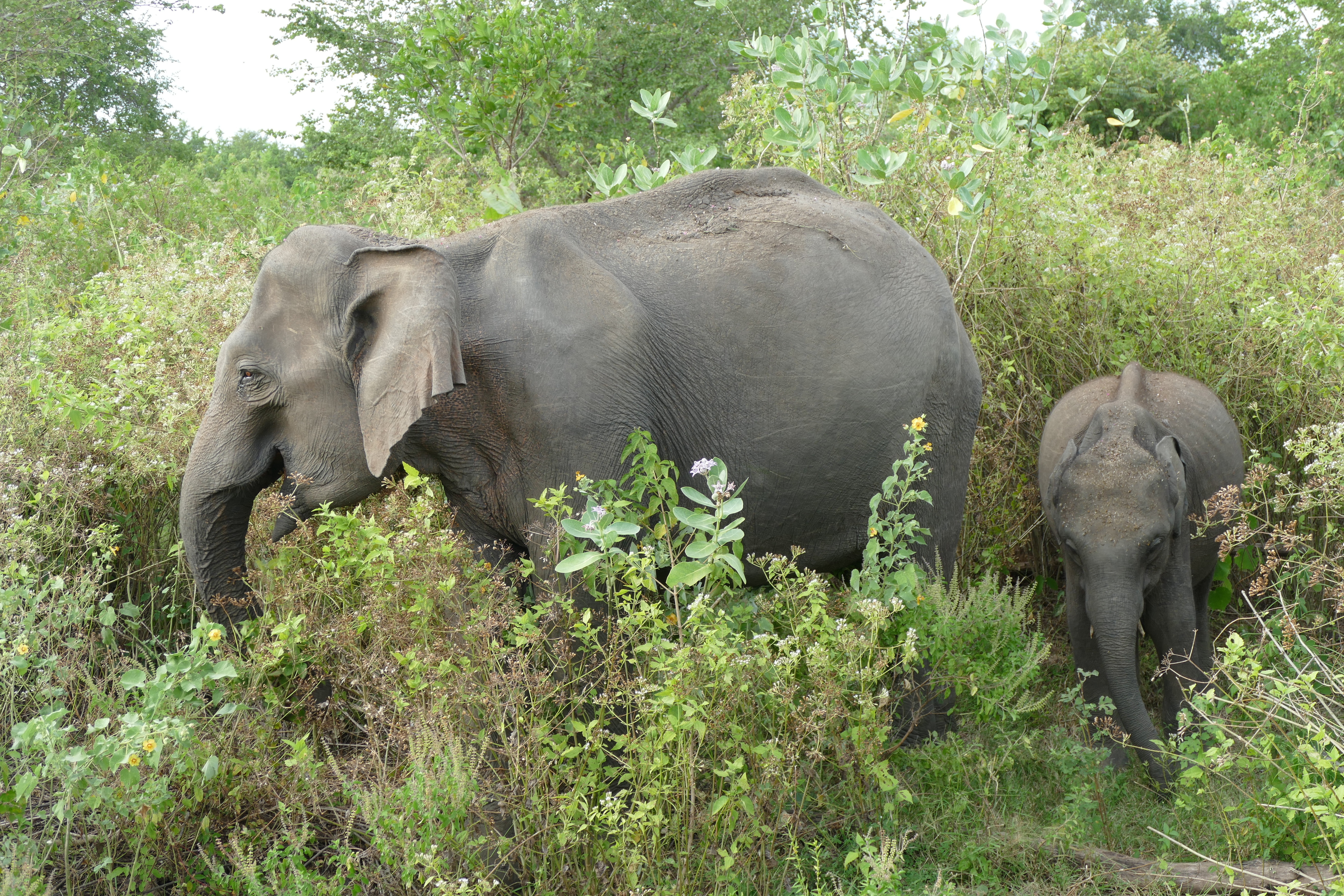 The journey begun with a trip to Sri Lanka - where I also met these guys!
We travelled to Sri Lanka on New Year's Day, for a winter holiday (one way to beat the January blues!).
It was there that we were fortunate enough to be guided by Stuart Pool of Nineteen48. Nineteen48 specialise in fully traceable, ethical, 'fairly-traded' coloured gems that are sourced directly from their own mines in Sri Lanka, or those of their exclusive network of approved partners.
Traceability is extremely rare in the coloured gems industry. It was thus a unique and exciting opportunity to use these ethical gemstones in my bespoke jewellery. There is something profound about purchasing gemstones I truly knew the origin of.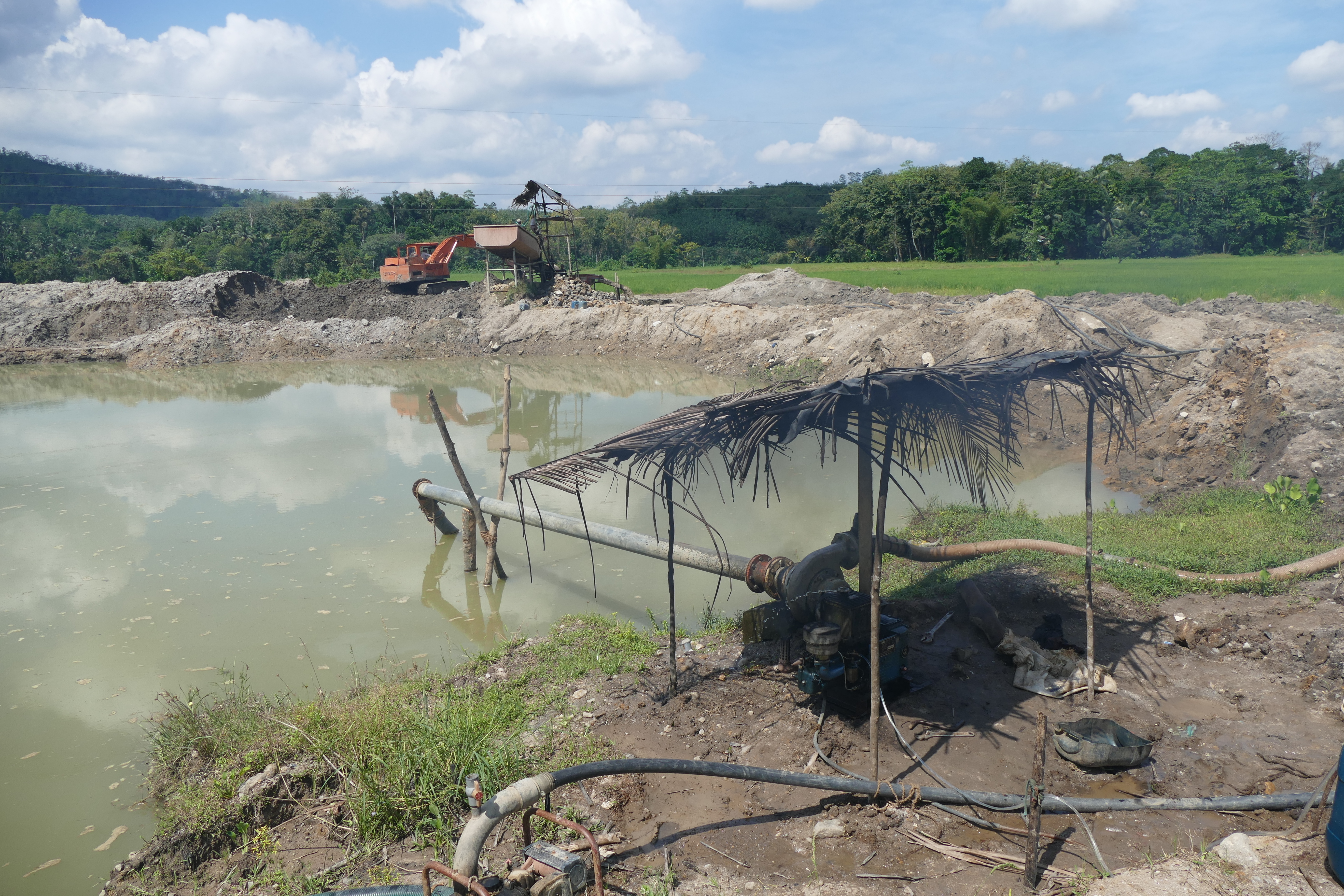 The mine site we visited in Sri Lanka
Furthermore, Nineteen48 encapsulate the true spirit of altruism, contributing a minimum 25% of profits directly to charitable projects giving educational opportunities to under-privileged children. This is jewellery that doesn't just take from the earth – but gives back to its inhabitants.
I felt incredibly privileged to be able to spend the day with Stuart and his team, visiting mine sites and witnessing the transformation of rough sapphires into beautiful gemstones by the remarkable Marshud, one of Nineteen48's expert cutters.
Choosing the perfect stone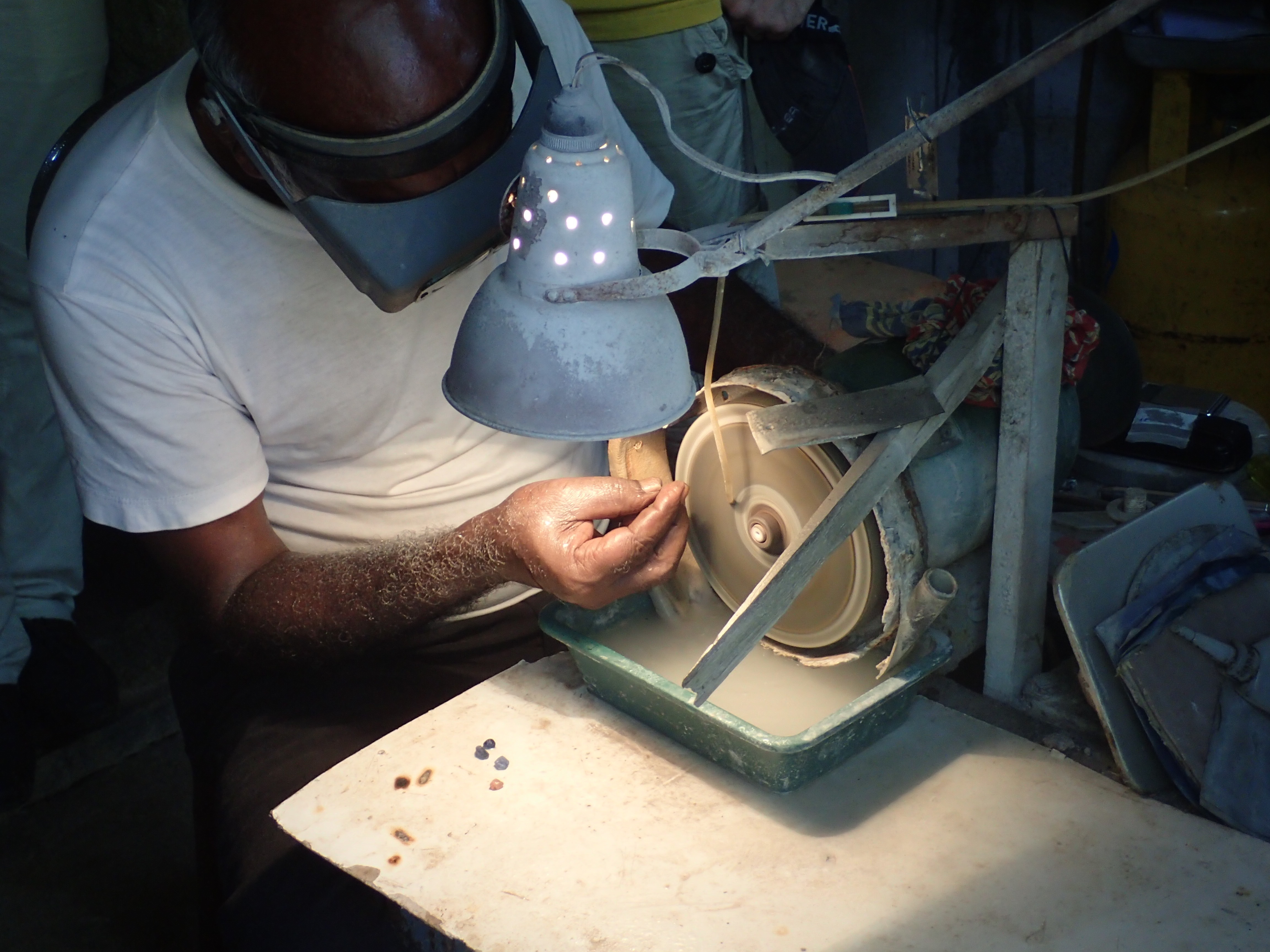 Marshud cutting the sapphires
There was one stone in particular that I was taken by: a beautiful, ethical, pink sapphire. Stuart helped me match this with an unusual teal sapphire and a blue spinel. And thus my bespoke jewellery journey began in earnest.
I also purchased an orange, and two blue, sapphires, which I had seen Marshud cut, alongside two exquisite white sapphires. These stones will be set in jewellery to celebrate the 18th birthday of my step-daughter this year (one very lucky 18 year old, to say the least!).
Back to the drawing board: Designing the jewellery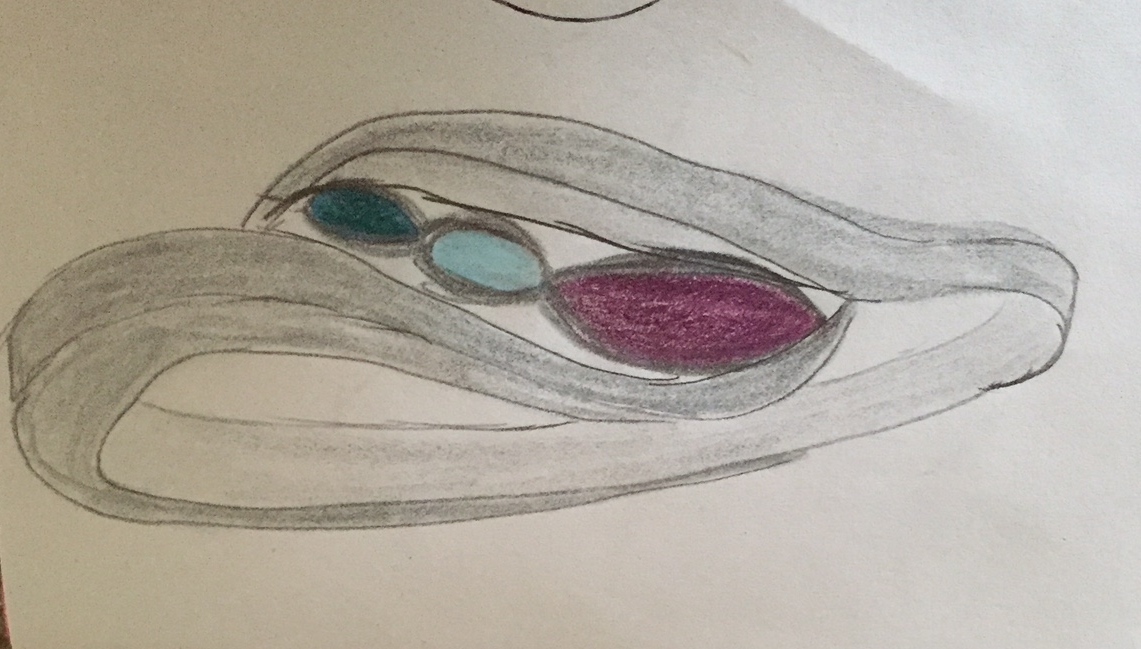 My Sketch for the Ring
I then had to decide what exactly to do with these stones. I drew out a couple of initial sketches, but realised I was going to need help. Expert help.
I thus decided to speak to Harriet Kelsall. I had been lucky enough to not only meet Harriet, but to work with her at the FLUX Conference in London. I had always been impressed by the ethical nature of her business, and passion for sustainable jewellery.
I visited HK Bespoke at their beautiful Hertfordshire studios at Halls Green, where I met with Laurie and her design assistant Holly. I presented my sketches, and we talked about the design. Laurie helped me think through the setting of the stones to truly profit from their shapes, and we consequently arrived at three beautiful designs.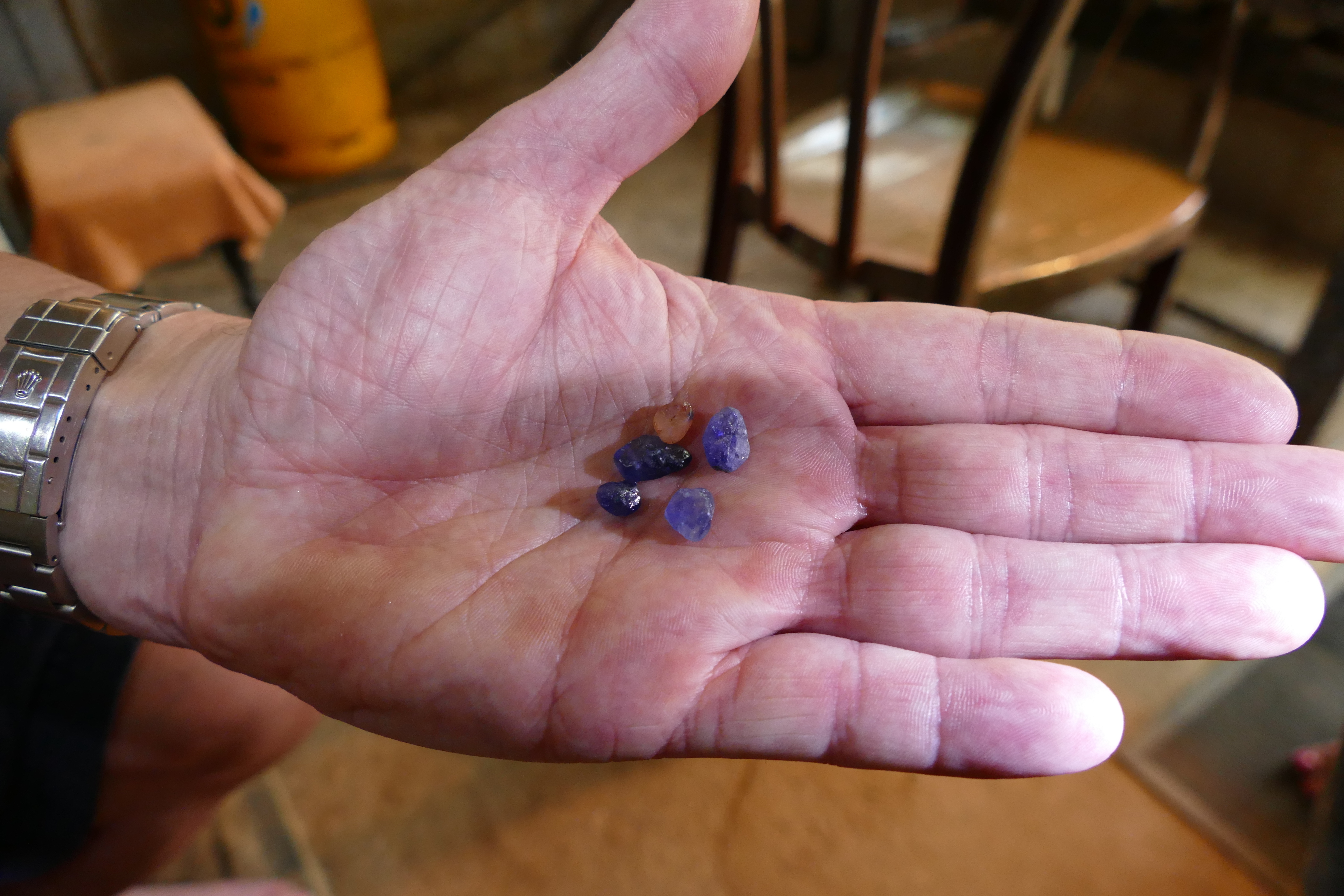 Gemstones in the rough
Choosing the gold: Fairtrade
My decision to use only Fairtrade gold meant I was limited in choice of colour and carats (as well as a slightly elevated price tag to cover the Fairtrade premium). But it was important to me that I matched my ethical gemstones with gold that supported artisanal and small-scale miners (read more about this: here). This way I could say that I knew the source of the entire ring; not just the stone.
Fairtrade Gold makes a tangible difference to the lives of the miners, offering them a fair price and financial security. Furthermore, the premium goes toward developing their local communities, including educational, environmental, or medicinal programs.
The nine-carat Fairtrade gold I had chosen was only available as grains of metal rather than bullion. In short (minus the technical vocabulary), it was going to be a totally different process than normal.
My designs were made using 3D CAD technology (back to the technical vocab, sorry), which was then rapid prototyped into a resin that then gets used to create a mould for the molten grains to be cast into. This process all happens at a specialist casting house.
After this stage, the partially formed jewellery was then sent back to the goldsmiths at Harriet Kelsall for them to smooth, set the stone in, and finish by hand.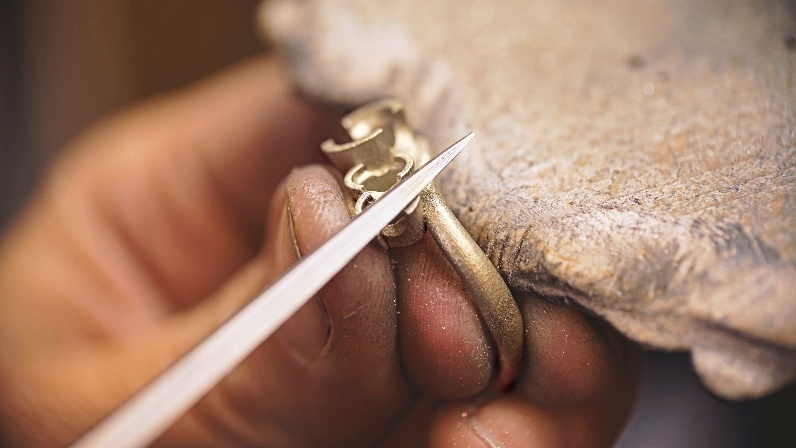 HK Bespoke master goldsmiths making my ring with Fairtrade White Gold © HK Bespoke
The extra stages involved in forming this jewellery means the overall costs was slightly elevated than standard, pre-prepared gold which jewellers can immediately work with. The difference was around £200, but this can vary according to the design and current metal price. But to me, it was worth spending this extra money. After all, the (ethical) provenance of the ring is part of its beauty.
The final product: something to treasure forever
I was able to return to the studios on the day the stones were set. I felt extremely lucky to be able to witness this process first-hand, and see the ring in its rawest form. Vic the stone setter at HK Bespoke is exceptionally talented - and patient! (I couldn't help but ask a lot of questions…)
He showed me how incredibly intricate and delicate jewellery making is, with the occasional need for brute force! It was a totally unique experience for me, and one that has added even more (personal) value to my jewellery.
I went to pick up the jewellery in their beautiful, sustainable bamboo boxes. It was a surprisingly emotional experience. The perfectly formed pieces of jewellery sitting comfortably in their luxurious wrapping seemed like a million miles away from the mines of Sri Lanka. And yet they weren't.
This was the true mine-to-market experience, and one that I feel incredibly privileged to have witnessed in all its various stages. I couldn't recommend this highly enough to anyone.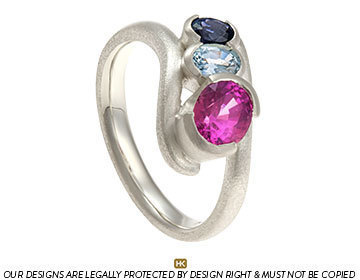 The finished product! © HK Bespoke
This is jewellery that has immeasurable value to not only me, but to everyone who received a fair price in the making of it. Its ethical provenance makes it more precious than the insurance could cover (although they'd charge extra for that if they could!). This is a ring I will be proud to wear, lucky to own, and grateful to have had created for me, and only me.
Do you remember that advert where everything gets a price, and then it ends on something that money can't buy? This is one of those moments. This isn't mass-produced, sitting-on-a-shelf, who-knows-where-it-came-from jewellery. This is bespoke, and ethical. And, ultimately, priceless.
Would you be interested in undertaking the same journey as Jane? Nineteen 48 are doing tours in 2017, and you can book now: http://www.nineteen48.com/sri-lanka-gem-tour-holiday-2017/
And you can design your own ethical jewellery with HK Bespoke, who work with Nineteen48 to source ethical gemstones and can also source ethical gemstones and diamonds for their customers from various mines across the world- https://www.hkjewellery.co.uk/