In the bustling artisanal gold mining sector of the Democratic Republic of the Congo (DRC), the daily struggles of individuals like Maya come to light. Maya is an artisanal gold miner. She also happens to be a trans woman working in an industry that is dominated by a patriarchal culture, offering little room for the recognition of diverse gender identities and sexual orientations. Every day, Maya faces ongoing discrimination, intimidation, and threats to her safety. At the end of a hard day's work, Maya is denied payment for her contribution in extracting gold. When she raises the issue with her "patron" (boss), she is accused of bringing bad luck to the mine site and being undeserving of an equal earning to her counterparts. Aware of the potential consequences, Maya chooses to let the matter go, knowing that pushing any further might lead to unlawful detention or physical harm.
Maya's story is not an isolated incident, but a representation of the realities endured by Lesbian, Gay, Bisexual, Trans, Queer, Intersex, Asexual and other (LGBTQIA+) individuals within the mining industry across the world. Experiences such as Maya's serve as a painful reminder that queer individuals still face significant barriers preventing them from fully enjoying their human rights. This illustrates the need to integrate LGBTQIA+ rights into the responsible sourcing discourse, creating an environment that embraces inclusivity and safeguards the well-being of people irrespective of their sexual orientation or gender identity.
What does "LGBTQIA+" mean?
LGBTQIA+ is an acronym that represents a diverse range of identities, including lesbian, gay, bisexual, transgender, queer (often used as an umbrella term), intersex, asexual, and more (see link for a full description). It is worth noting that inclusivity extends beyond these terms. In certain regions, alternative expressions are used. For instance, "2S" refers to Two-Spirit, a term cherished by many Indigenous communities in North America to embrace individuals with diverse gender identities and sexual orientations. In addition, "Same-Gender Loving" (SGL) emerged in the early 1990s to amplify the voices of Black queer people, creating a term free from the racism often associated with the white queer community.
Countless languages worldwide have their own unique terms, many predating their English counterparts or lacking translations in European languages. It is important to acknowledge that queer individuals exist in all communities, despite an absence of direct translations.
Just like women's right, labour rights, and health and safety rights, LGBTQIA+ rights are human rights and therefore should be taken into account in any efforts to identify and mitigate human rights-related risks in mineral supply chains. However, a lack of existing data on the topic is holding our sector back from addressing these very real human rights challenges.
Here at Levin Sources, we help our clients understand and respond to human rights risks in their mineral supply chains. Our daily efforts include conducting research and providing strategic advice to businesses, organisations, and governments, all with the goal of creating an environment where everyone in the minerals sector can fully enjoy their human rights. Yet, LGBTQIA+ rights rarely emerge as a focal point. Despite there being publicly available information highlighting the pervasive violations of queer people's rights worldwide, gathering information specifically about the challenges faced by LGBTQIA+ communities in the minerals sector is an incredibly difficult task. While carrying out research for this article, we realised that human rights organisations and knowledge institutes involved in the minerals sector seldom release reports addressing the difficulties faced by queer individuals in mining. Moreover, they rarely offer disaggregated data that acknowledges the unique identities and experiences of LGBTQIA+ individuals. For instance, in most data, gender is predominantly viewed as a binary concept, thereby erasing the identities of non-binary people.
Conversations with LGBTQIA+ activists in the upstream and downstream minerals sector
We therefore reached out to LGBTQIA+ entrepreneurs and activists in both the upstream and downstream segments of the minerals sector to better understand their challenges in supporting the rights of LGBTQIA+ people. We spoke with Jérémie Safari (she/her), a trans rights activist and Executive Director of Rainbow Sunrise Mapambazuko (RSM). RSM is a non-profit organisation providing support to and promoting the human rights of the LGBTQIA+ community in South Kivu in the DRC. RSM has, for instance, worked with USAID on integrating LGBTQIA+ rights into their programmes in the region. Since 2010, Safari has been at the forefront of the fight for safety and equality for the Congolese LGBTQIA+ community. South Kivu has some of the country's richest mineral deposits and has many gold artisanal and small-scale mining (ASM) operations. In Safari's encounters with queer minorities, particularly trans women, working in ASM, she repeatedly witnessed instances of rape, assault, humiliation, discrimination, intimidation, unlawful detention, and unpaid labour.
"LGBTQIA+ people who run small businesses around the mines are often assaulted, harassed, and publicly stripped, and others have their goods forcibly taken away by young people from the community. LGBTQIA+ people […] cannot claim their debt for fear of being beaten and humiliated. Others are sometimes evicted from their homes by law enforcement officers in complicity with local community leaders and traditional chiefs, accusing them of being in conflict with local customs because of their "satanic" sexual practices, while others are refused a house to rent because they are homosexuals. Trans women are subjected to corrective rape by members of the community in order to force them to change their sexual orientation, and some are also subjected to customary rituals to make them change who they are" – Jérémie Safari, Rainbow Sunrise Mapambazuko
Despite the severity of these acts and the presence of numerous international development organisations working towards improving the lives of ASM communities, Safari seldom comes across dedicated programmes or funding aimed at supporting LGBTQIA+ individuals in the Congolese ASM sector.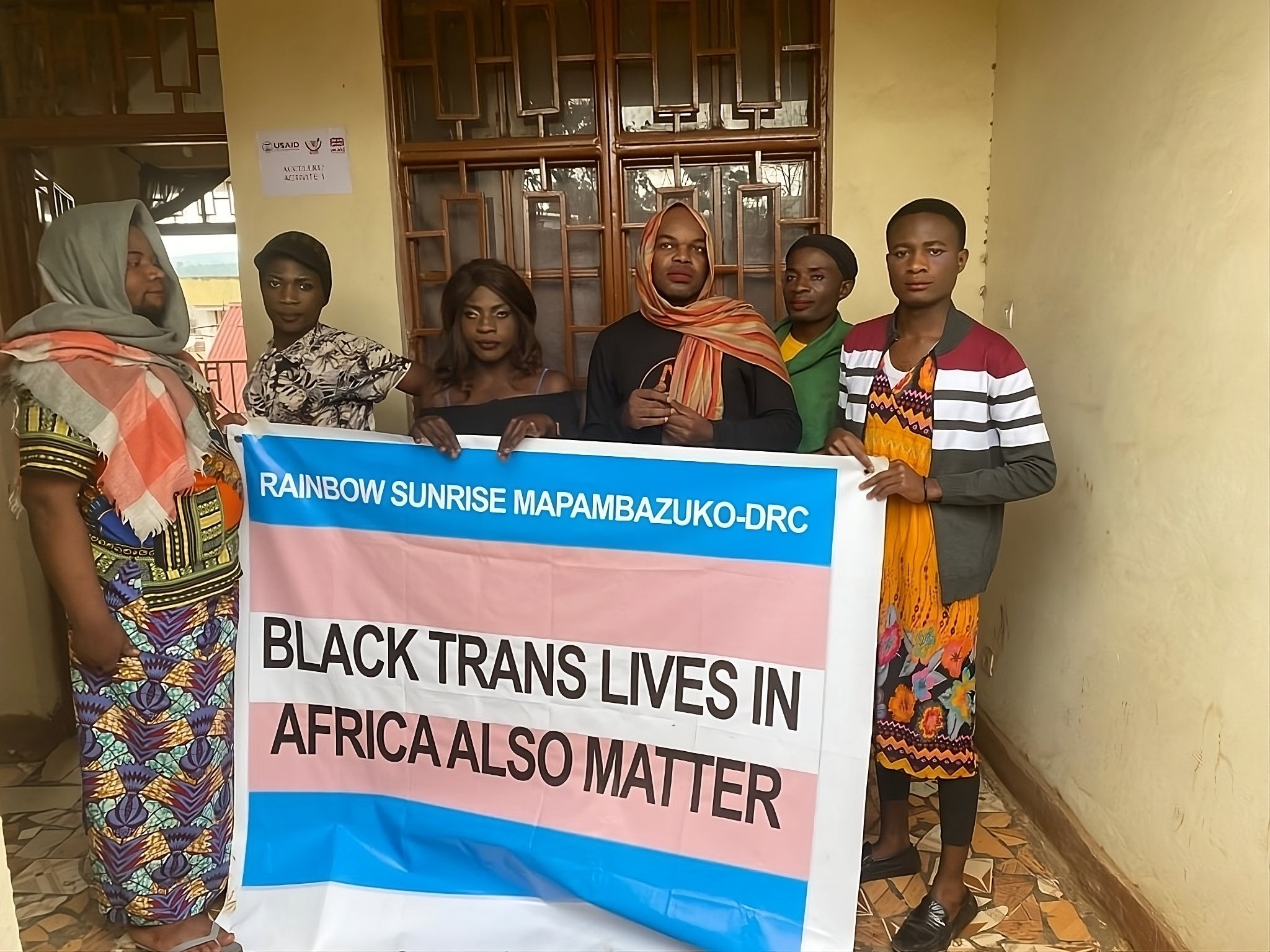 Copyright: Rainbow Sunrise Mapambazuko.
Although LGBTQIA+ rights issues appear not to be mainstreamed within the responsible sourcing discourse, there is an appetite from the private sector for more information on the topic. We spoke with Tracey Carswell (they/them), who co-founded Queer Metalsmiths, founded Powerful in Pink, and served as the founder and former president of the Women's Jewelry Association (Miami chapter). Carswell is fostering a network of queer jewellers and metalsmiths in the United States. In the context of promoting inclusivity and leveraging their extensive experience in collaborating with like-minded individuals, Carswell had not come across discussions specifically addressing the support for upstream queer individuals involved in mining the minerals used in jewellery production. As Queer Metalsmiths continues to expand its operations, they are actively exploring responsible sourcing strategies. However, they have found that LGBTQIA+ rights are a noticeable gap within the responsible sourcing discourse. Nevertheless, Carswell remains optimistic, believing that their network of LGBTQIA+ entrepreneurs would be open to supporting queer individuals upstream. They assert, "queer and trans people care about others because they know what it is like to not be heard. [...] If I were able to guide people towards the right resources and explain that there is a way to support LGBTQIA+ miners, I definitely see this as the perfect time. Let's shine a light on this area".
Fostering change for a more inclusive minerals sector
These insights from both upstream and downstream perspectives highlight the need for more information, understanding, attention, and inclusion of local grassroots organisations working to improve the lives of queer people. RSM is just one local organisation among many that fights to protect LGBTQIA+ individuals from violence and discrimination. Queer Metalsmiths is but one company driven by a strong social mission, seeking tools to ensure their mineral sources are not inadvertently connected to the violation of queer rights. Although each LGBTQIA+ individual in the minerals sector will face a unique set of challenges to their rights depending on where in the world they live and how their work is set up, it is an undisputable fact that queer people are particularly vulnerable to human rights violations. The appetite of the downstream sector to support the LGBTQIA+ community may be there; the crucial next step is providing them with the necessary resources to take meaningful action.
At the moment, many international development and donor organisations shy away from incorporating LGBTQIA+ rights into their programmes in the Global South due to concerns about such activities being perceived as foreign interference in local customs and culture. This apprehension is rooted in the misconception that LGBTQIA+ identities are exclusively associated with Western culture, overlooking the fact that queerphobia itself can be a product of colonial influence. Postcolonial and queer researchers have found that, before European colonisation, many African and Latin / North American countries did not perceive gender as binary and did not automatically associate anatomy with gender identity. LGBTQIA+ individuals were less persecuted until European colonisation. In contrast, homosexuality has been criminalised in Europe since the 13th century.
In her interview, Jérémie responds to this notion by stating that: "I can only encourage them as the situation of LGBTQIA+ people in the mining sector is currently being neglected and forgotten. In order for the activities not to be perceived as foreign interference in the customs and culture of the DRC, these international organisations must collaborate and work with local organisations that are active in the field of human rights, but they must also put these local organisations at the forefront during the implementation of the activities so that they are not misperceived by the local community".
Actively seeking to understand and address the unique challenges faced by LGBTQIA+ individuals in the minerals sector is a necessary step to ensure that we can contribute to a more inclusive and equitable industry. By recognising queer individuals as legitimate rightsholders who deserve the full exercise of their human rights, it becomes essential for any interventions aimed at managing human rights-related risks in mineral sourcing to strive for inclusivity. This starts by expanding our knowledge on LGBTQIA+ challenges within the minerals sector and actively contributing to the conversation surrounding this important issue.
Resources
General LGBTQIA+ rights:
LGBTQIA+ rights in the minerals sector:
Les droits des LGBTQIA+ sont des droits humains : Ouvrir la voie à l'inclusion dans le discours sur l'approvisionnement responsable en minerais
Dans le secteur animé des mines d'or artisanales de la République démocratique du Congo (RDC), les luttes quotidiennes d'individus comme Maya méritent d'être mises en lumière. Maya travaille dans une mine d'or artisanale. Elle est également une femme transgenre qui travaille dans un secteur dominé par une culture patriarcale qui laisse peu de place à la reconnaissance des diverses identités de genre et orientations sexuelles. Chaque jour, Maya est confrontée à la discrimination, à l'intimidation et à des menaces sur sa sécurité. À la fin d'une dure journée de travail, Maya se voit refuser le paiement de son travail d'extraction de l'or. Lorsqu'elle soulève la question auprès de son "patron", elle est accusée de porter malheur au site minier et de ne pas mériter un salaire égal à celui de ses homologues. Consciente des conséquences potentielles, Maya choisit de laisser tomber, sachant qu'en insistant davantage, elle risque d'être blessée physiquement, voire pire.
L'histoire de Maya n'est pas un incident isolé, mais une représentation brutale des réalités endurées par les personnes lesbiennes, gays, bisexuelles, trans, queers, intersexes, asexuelles et autres (LGBTQIA+) dans l'industrie minière à travers le monde. Des expériences telles que celle de Maya nous rappellent que les personnes queer sont toujours confrontées à des obstacles importants qui les empêchent de jouir pleinement de leurs droits humains. Cela illustre le besoin urgent d'intégrer les droits des personnes LGBTQIA+ dans le discours sur l'approvisionnement responsable, en créant un environnement qui favorise l'inclusion et protège le bien-être des personnes, quelle que soit leur orientation sexuelle ou leur identité de genre. Les droits des LGBTQIA+ sont des droits humains et doivent donc être pris en compte dans tous les efforts visant à identifier et à atténuer les risques liés aux droits des personnes dans les chaînes d'approvisionnement en minerais. Cependant, un manque d'attention et de connaissances empêche notre secteur de relever ces défis très réels en matière de droits humains.
Que signifie "LGBTQIA+" ?
LGBTQIA+ est un acronyme qui représente un large éventail d'identités, y compris les lesbiennes, les gays, les bisexuels, les transgenres, les queers (souvent utilisés comme terme générique), les intersexuels, les asexuels, et bien d'autres encore (voir le lien pour une description complète). Il convient de noter que l'inclusion va au-delà de ces termes. Dans certaines régions, des expressions alternatives sont utilisées. Par exemple, "2S" fait référence à Two-Spirit, un terme chéri par de nombreuses communautés indigènes d'Amérique du Nord pour désigner les personnes ayant des identités de genre et des orientations sexuelles diverses. En outre, l'expression "Same-Gender Loving" (SGL) est apparue au début des années 1990 pour amplifier la voix des Noirs homosexuels, créant ainsi un terme exempt du racisme présent dans la communauté blanche homosexuelle.
D'innombrables langues dans le monde ont leurs propres termes, souvent antérieurs à leurs équivalents anglais ou sans traduction dans les langues européennes. Il est important de reconnaître que les personnes queer existent dans toutes les communautés, malgré l'absence de traductions directes.
Chez Levin Sources, nous aidons nos clients à comprendre les risques liés aux droits humains dans leurs chaînes d'approvisionnement en minerais et à y répondre. Nos efforts quotidiens consistent à mener des recherches et à fournir des conseils stratégiques aux entreprises, aux organisations et aux gouvernements, dans le but de créer un environnement dans lequel tous les acteurs du secteur des minéraux peuvent jouir pleinement de leurs droits humains. Pourtant, il est inquiétant de constater que les droits des personnes LGBTQIA+ n'apparaissent pratiquement jamais comme un point central. Malgré l'abondance d'informations accessibles au public soulignant les violations généralisées des droits des personnes homosexuelles dans le monde, la collecte d'informations spécifiques sur les défis auxquels sont confrontées les communautés LGBTQIA+ dans le secteur des minerais est une tâche incroyablement difficile. En effectuant des recherches pour cet article, nous nous sommes rendu compte que les organisations de défense des droits des personnes et les instituts de recherche impliqués dans le secteur des minéraux publient rarement, voire pas du tout, des rapports sur les difficultés rencontrées par les personnes queer dans l'industrie minière. En outre, ils offrent rarement des données désagrégées qui reconnaissent les identités et les expériences uniques des personnes LGBTQIA+. Par exemple, il convient de noter que dans la plupart des données, le genre est toujours considéré comme un concept binaire, ce qui efface les identités des personnes non binaires.
Conversations avec des entrepreneurs et militants LGBTQIA+ dans le secteur des minéraux en amont et en aval.
Nous avons donc contacté des entrepreneurs et des militants LGBTQIA+ dans les segments en amont et en aval du secteur des minerais afin de mieux comprendre les défis qu'ils doivent relever pour soutenir les droits des personnes LGBTQIA+. Nous nous sommes entretenus avec Jérémie Safari (elle), militante des droits des personnes transgenres et directrice exécutive de Rainbow Sunrise Mapambazuko (RSM). RSM est une organisation à but non lucratif qui soutient et promeut les droits humains de la communauté LGBTQIA+ au Sud-Kivu, en RDC. RSM a, par exemple, travaillé avec l'USAID sur l'intégration des droits LGBTQIA+ dans leurs programmes dans la région. Depuis 2010, Safari est à la pointe du combat pour la sécurité et l'égalité de la communauté LGBTQIA+ congolaise. Le Sud-Kivu possède certains des gisements minéraux les plus riches du pays et compte de nombreuses exploitations minières artisanales et à petite échelle (EMAPE). Lors de ses rencontres avec des minorités queer, en particulier des femmes transgenres, travaillant dans l'EMAPE, Safari a été témoin à maintes reprises de viols, d'agressions, d'humiliations, de discriminations, d'intimidations, de détentions illégales et de travail non rémunéré.
"Les personnes LGBTQIA+ qui tiennent des petits commerces autour des mines sont souvent agressées, harcelées et déshabillées en public, et d'autres se voient confisquer leurs biens par des jeunes de la communauté. Les personnes LGBTQIA+ [...] ne peuvent pas réclamer leur dette de peur d'être battues et humiliées. D'autres sont parfois expulsées de leur domicile par des agents des forces de l'ordre en complicité avec les chefs communautaires locaux et les chefs traditionnels, les accusant d'être en conflit avec les coutumes locales en raison de leurs pratiques sexuelles "sataniques", tandis que d'autres se voient refuser la location d'une maison parce qu'elles sont homosexuelles. Les femmes transgenres sont soumises à des viols correctifs par des membres de la communauté afin de les forcer à changer d'orientation sexuelle, et certaines sont également soumises à des rituels coutumiers pour les faire changer d'identité" - Jérémie Safari, Rainbow Sunrise Mapambazuko
Malgré la gravité de ces actes horribles et la présence de nombreuses organisations de développement travaillant à l'amélioration des conditions de vie des communautés d'EMAPE, Safari rencontre rarement des programmes ou des financements dédiés au soutien des personnes LGBTQIA+ dans le secteur d'EMAPE congolais.
Bien que les questions relatives aux droits des personnes LGBTQIA+ ne semblent pas être intégrées dans le discours sur l'approvisionnement responsable, le secteur privé souhaite obtenir davantage d'informations sur le sujet. Nous nous sommes entretenus avec Tracey Carswell (Tracey utilise les pronoms they/them que nous traduisons ici par "iel"). Iel a confondé Queer Metalsmiths, et fondé Powerful in Pink et la Women's Jewelry Association. Carswell est en train de créer un espace sûr et d'encourager un réseau de bijoutiers et de métallurgistes queers aux États-Unis. Dans le contexte de la promotion de l'inclusivité et de la mise à profit de sa vaste expérience en matière de collaboration avec des personnes partageant les mêmes idées, Carswell n'avait pas rencontré de discussions portant spécifiquement sur le soutien aux personnes homosexuelles en amont impliquées dans l'extraction des minéraux utilisés dans la production de bijoux. Queer Metalsmith continue d'étendre ses activités et explore activement des stratégies d'approvisionnement responsable. Cependant, iel a constaté que les droits des LGBTQIA+ constituent une lacune notable dans le discours sur l'approvisionnement responsable. Néanmoins, Carswell reste optimiste et pense que son réseau d'entrepreneurs LGBTQIA+ sera ouvert à l'idée de soutenir les personnes queers en amont. Iel affirme que "les personnes queers et trans se soucient des autres parce qu'elles savent ce que c'est que de ne pas être entendues. Si je pouvais guider les gens vers les bonnes ressources et leur expliquer qu'il existe un moyen de soutenir les mineurs LGBTQIA+, je considère que c'est le moment idéal. Mettons la lumière sur ce domaine".

Favoriser le changement pour un secteur des minéraux plus inclusif
Ces observations, tant en amont qu'en aval, soulignent le besoin immédiat d'information, de compréhension, d'attention et d'inclusion des organisations locales de base. RSM n'est qu'une organisation locale parmi d'autres qui se bat pour protéger les personnes LGBTQIA+ contre la violence et la discrimination. Queer Metalsmiths n'est qu'une entreprise animée par une mission sociale forte, qui cherche des outils pour s'assurer que ses sources minérales ne sont pas involontairement liées à la violation des droits des homosexuels. Bien que chaque personne LGBTQIA+ travaillant dans le secteur des minéraux soit confrontée à un ensemble unique de défis en matière de droits, en fonction de l'endroit où elle vit dans le monde et de la manière dont son travail est organisé, il est indéniable que les personnes homosexuelles sont particulièrement vulnérables aux violations des droits de l'homme. L'appétit du secteur en aval pour soutenir la communauté LGBTQIA+ est peut-être là ; la prochaine étape cruciale est de leur fournir les ressources nécessaires pour prendre des mesures significatives.
À l'heure actuelle, de nombreuses organisations de développement et de donateurs hésitent à intégrer les droits des personnes LGBTQIA+ dans leurs programmes dans les pays du Sud, car elles craignent que ces activités soient perçues comme une ingérence étrangère dans les coutumes et la culture locales. Cette appréhension est ancrée dans l'idée fausse que les identités LGBTQIA+ sont exclusivement associées à la culture occidentale, négligeant le fait que l'homophobie elle-même peut être un produit de l'influence coloniale. Les chercheurs postcoloniaux et queers ont constaté qu'avant la colonisation européenne, de nombreux pays africains ne percevaient pas le genre comme binaire et n'associaient pas automatiquement l'anatomie à l'identité de genre. Les personnes LGBTQIA+ étaient moins persécutées avant la colonisation européenne. En revanche, l'homosexualité est criminalisée en Europe depuis le 13e siècle.
Dans son interview, Safari répond à cette notion en affirmant que : "Je ne peux que les encourager car la situation des personnes LGBTQIA+ dans le secteur minier est actuellement négligée et oubliée. Pour que les activités ne soient pas perçues comme une ingérence étrangère dans les coutumes et la culture de la RDC, ces organisations internationales doivent collaborer et travailler avec des organisations locales actives dans le domaine des droits des personnes, mais elles doivent également mettre ces organisations locales au premier plan lors de la mise en œuvre des activités afin qu'elles ne soient pas mal perçues par la communauté locale".
Chercher activement à comprendre et à relever les défis particuliers auxquels sont confrontées les personnes LGBTQIA+ dans le secteur des minéraux est une étape nécessaire pour s'assurer que nous pouvons contribuer à une industrie plus inclusive et plus équitable. En reconnaissant les personnes queers comme des détenteurs légitimes de droits qui méritent le plein exercice de leurs droits humains, il devient essentiel que toute initiative visant à gérer les risques liés aux droits des personnes dans le cadre de l'approvisionnement en minerais s'efforce d'être inclusive. Cela commence par l'élargissement de nos connaissances sur les défis LGBTQIA+ dans le secteur des minéraux et par une contribution active à la conversation autour de cette question importante.