The business case for using ASMSpotter in Guyana:
The government of Guyana, a country with a long tradition of artisanal and small-scale mining (ASM), has put protocols in place to inspect ASM sites every six weeks. However, officials often struggle to carry them out, due to a lack of necessary human resources, or difficulties with accessibility due to remoteness and/or extreme weather events. Enter the ASMSpotter, an AI-based solution developed by dida with support from Levin Sources.
The ASMSpotter automatically detects small-scale gold mining (ASGM) activities using satellite data and artificial intelligence. It helps governments and conservation organizations to monitor ASM activities and deforestation connected to ASM.
How we worked together:
ASMSpotter was deployed in Guyana as part of Conservation X Labs's Amazon CoLab, a six-month accelerator program to support innovator teams developing, testing, and advancing solutions to protect people and ecosystems in the Amazon as a region.
The Guyanese Ministry of Natural Resources (MNR) had previously considered many digital solutions to support its ASM policies however, the ASMSpotter was the first one able to do it in practice.
The Guyana Geology and Mines Commission (GGMC), responsible for the on-the-ground monitoring of ASM activities, highlighted areas of interest (AoI) where they planned inspection missions.
dida built a web-based frontend where users can define an AoI where the ASMSpotter would be deployed for detection.
The data is updated roughly every two weeks, when the Sentinel-1 and Sentinel-2 Earth Observation Satellites revisit the AoI.
Then the software detected changes to ASM areas.
The ASMSpotter confirmed existing observations, demonstrating that it works well.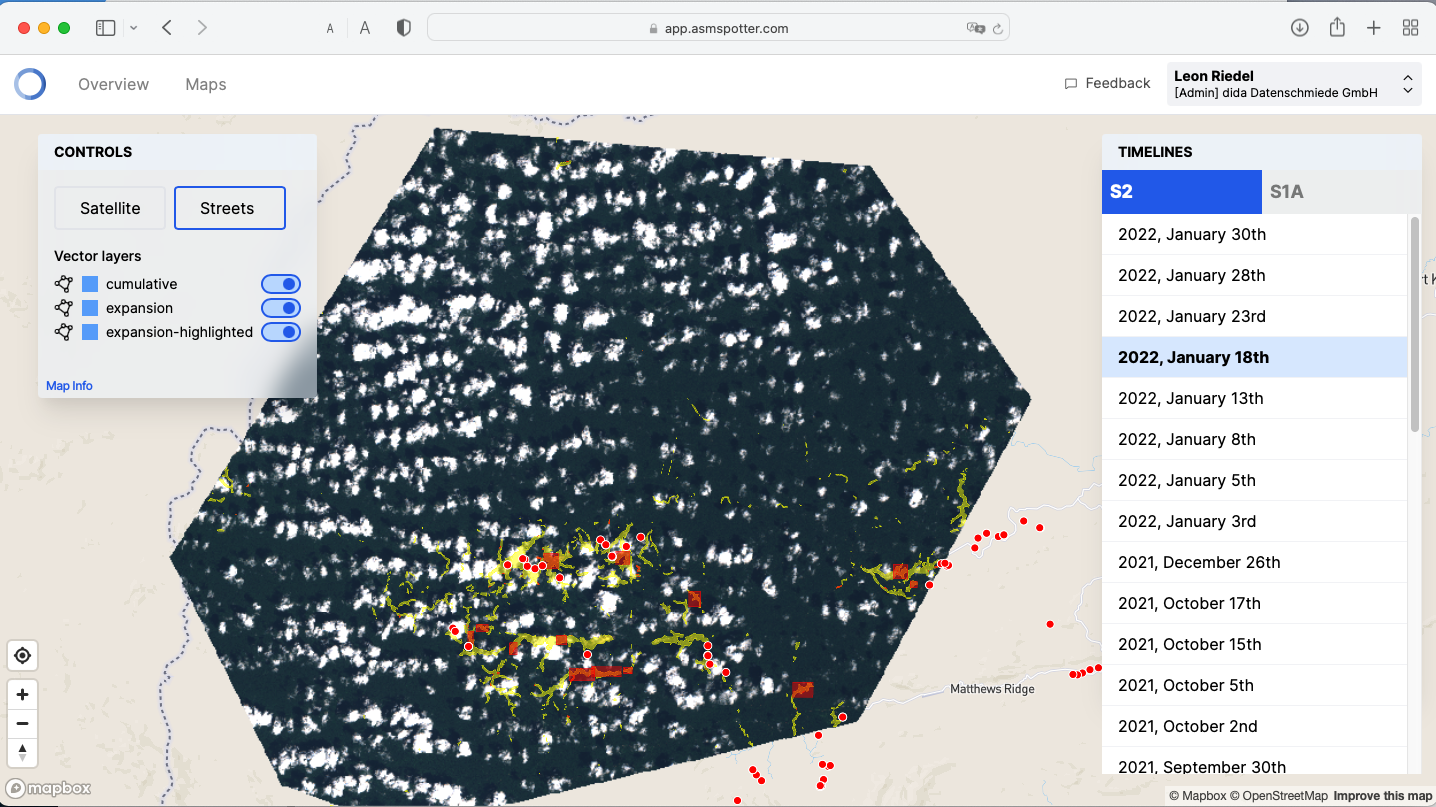 What we learnt and how it can benefit your next project:

WITH GUYANA: Together with the GGMC and MNR, we prepared a list of feature requests for future development and use, including:
New features to target monitoring. The ASMSpotter doesn't remove the need for site visits but helps identify areas to prioritise, a very important planning tool when human and/or financial resources are limited.
Mining site classification, including training the software to spot whether a mine is active, its depths, new road construction and deforestation to see where the next mine will be.
RADAR DETECTION: This enables the ASMSpotter to detect activity in known mining sites. In combination with high-resolution images that can be checked by an officer, you understand what is happening on the ground. Radar also eliminates the problematic cloud cover present in optical imagery, as radar penetrates through clouds.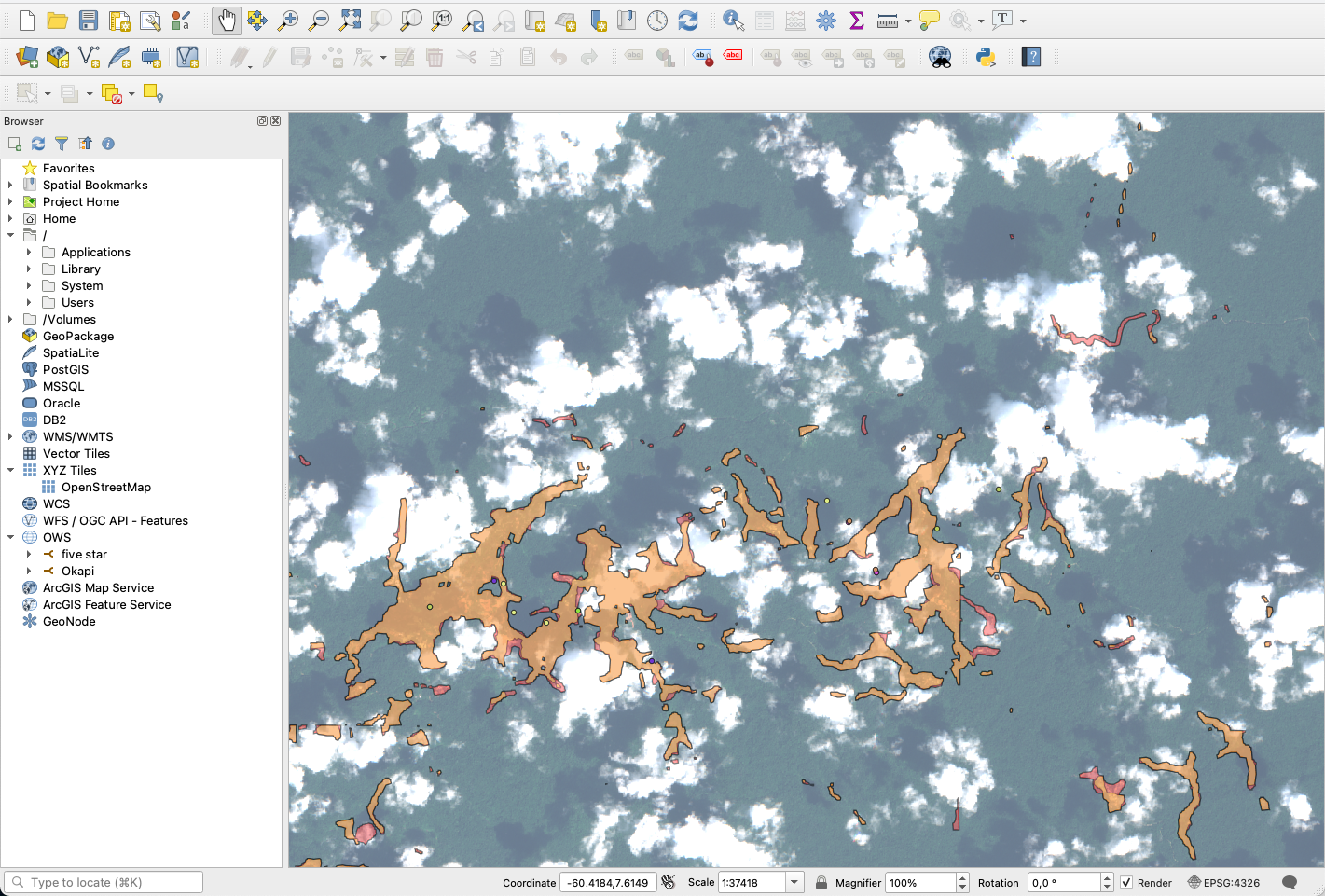 How you can use the ASMSpotter:

For baseline studies research on ASM development over the last 5 years1 as the software can detect evolutions retrospectively and measure area or surface disturbance.
For near-live remote monitoring of ASM developments, e.g. on or near a mining or agricultural concession, a protected area or a key biodiversity area
For ASM monitoring in protected areas or key biodiversity areas
For weather-agnostic ASM detection through radar 
For ASM monitoring on LSM concession areas, exploration areas or agricultural areas
For efficient on-the-ground inspection planning
Coming soon: proxies, settlement monitoring etc. (multiclass detection)