Without government engagement, there can be no operational national Artisanal and Small-scale Mining (ASM) formalisation strategy. This is why Levin Sources and the Alliance for Responsible Mining (ARM), in partnership with Genesis Lda, integrated capacity-building efforts throughout the implementation phase of a project we carried out in Mozambique as part of the World Bank-funded Mining And Gas Technical Assistance Project (MAGTAP).
To achieve this, we built on the project's dual mission of implementing a roadmap focused on formalising ASM pilot areas and developing recommendations for an extension services system.
As described in this article, this meant switching the focus from a traditional one-off training session to developing a programme of complementary tools and activities that would allow for ongoing stakeholders engagement and learning.
To deliver on capacity building, the project team mainly worked with officers from the department of ASM (DEMAPE) in the Directorate for Geology and Mines (DNGM) of the Ministry of Energy and Mines (MIREME) and with provincial (SPI) and district (SDAE) authorities' representatives.
This article is the third in our series about the formalisation work carried out as part of the MAGTAP project in Mozambique. Read an overview here and case studies on cooperative support in Inhambane, Tete, and Zambezia here.
1. Engagement and ongoing capacity building on-site during project implementation
Considering the project's short timeframe and its ambitious goals, the team identified the best approach to deliver efficient capacity building for the government from the get-go.
The main strategy: to engage officers from DEMAPE and SPI/SDAE throughout the implementation of activities.
In practical terms, this meant increasing the share of the budget allocated to government engagement and actively involving them in most project activities.
The engagement included four main components:
Government representatives took part in the participative development of cooperative-specific action plans. The project team suggested that DEMAPE and SPI/SDAE officers accompany all "strategic actions", which are defined as activities pivotal to the ASM cooperative formalisation process. This also meant developing technical methods and tools (e.g. assessment methods, technical recommendations, participatory exercises) to help implement them.
Government officials were involved in all these strategic actions, so that they could experience first-hand what supporting the cooperatives' formalisation process meant. They observed and contributed to the project team's implementation of extension services.
To make the most of government colleagues' participation, the project team organised briefings and debriefing meetings to run them through the methods and activities the project was implementing.
To conclude each strategic action, in addition to delivering a report, DEMAPE staff who had participated in the project activity organised a presentation for those colleagues who had not, to transfer the methods learned.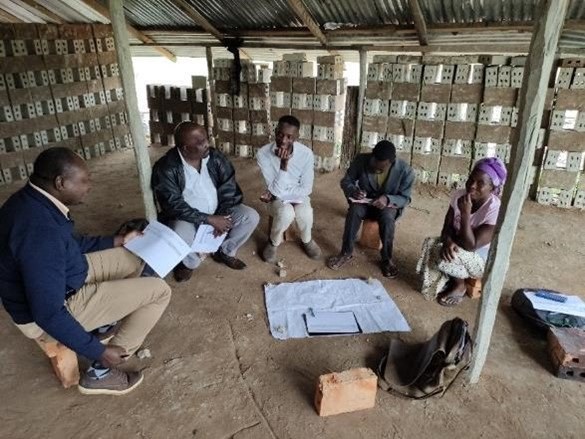 2. Delivery of operational sheets

To capture the methods and tools used by the project team throughout the implementation of extension services across thematic areas (organisational, legal, technical, commercial, environmental, social, etc.), the project team developed operational sheets.

These short documents, very practical in nature, summarise the steps taken for each work stream. They explain processes, methods, tools and key results. The government can use them in the future to appropriate and replicate the activities described and complement the practical knowledge government officers gained during their involvement.
In total, the project delivered 13 operational sheets throughout its implementation.
3. Training of trainers
Over the course of a week-long training of trainers, about 30 representatives from government agencies most involved in the ASM sector at the national and provincial levels learnt about health and safety (general H&S, emergency response, ventilation, retention work, and electrical hazards), gravimetric processing and detonation and explosive use in gemstones mining.
The training combined theoretical sessions with practical demonstrations with the equipment available. For instance, attendees were able to use sample machines from the MIREME National Repository similar to the one due to be delivered to partner cooperatives.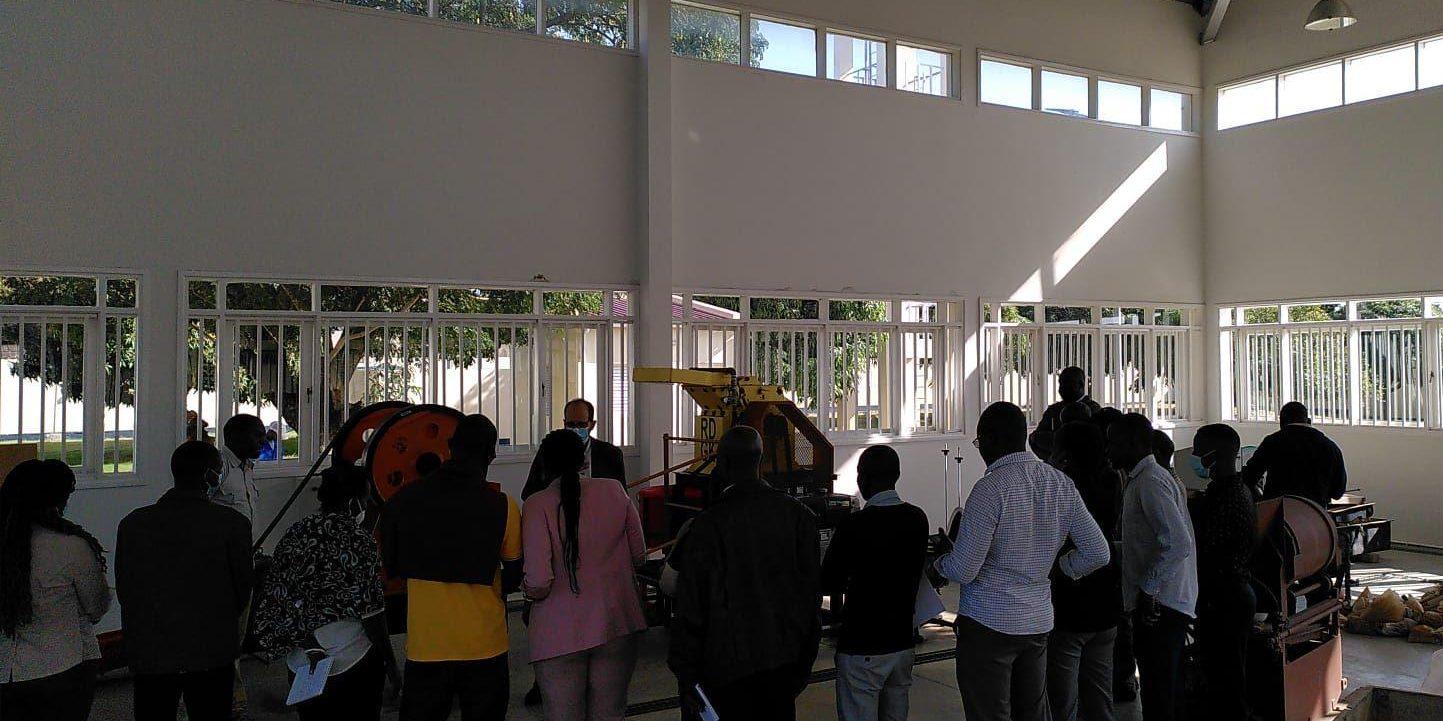 4. National workshops: ASM strategy and extensions services and recommendations
The project organised two national workshops throughout its implementation, which doubled as structural capacity building opportunities for the government. These were an opportunity for discussion and exchange between government representatives.
1/ National workshop to reflect on the ASM legal framework, formalisation strategy and its piloting: About 30 participants reflected on the government ASM development and formalisation strategy, the international good practices paper submitted by the project and the institutional and the legal review of the ASM sector in Mozambique prepared by the project lead.
The institutional and legal review identified limitations in the current legislation and institutional structure which might hinder the formalisation of the ASM sector. Participants then had a chance to discuss practical recommendations to overcome these challenges.
During the workshop, attendees identified gaps in terms of stakeholders knowing the content of this strategy. They concluded that the ASM development and formalisation strategy needed to be revised in its format, translated in Portuguese and proactively promoted not only at national level but also at provincial and district ones.
2/ Workshop on recommendations for an extension services system. The second workshop took place towards the end of the project. Participants discussed the project team's practical recommendations to strengthen and build a national system for extension services to be implemented locally. Attendees reviewed the proposal in details, looking at opportunities and limitations and offering additional ideas. These were all integrated in the final recommendations report.
During the workshop, participants had the chance to learn from the experience of the agricultural sector, where extension services have been implemented for many years. In that sector, extensionists can support rural development with a focus on the economic actors working in agriculture. Many of the experiences and the concept of rural development are relevant for the ASM sector.
Participants concluded that the sector would benefit from the establishment of a network of extension services agents, generalists in their experience, who would be able to connect miners with technical specialists as needed.
Following the workshop, the project team produced terms of reference for extension services for the ASM sector in Mozambique, which could support their implementation in the future.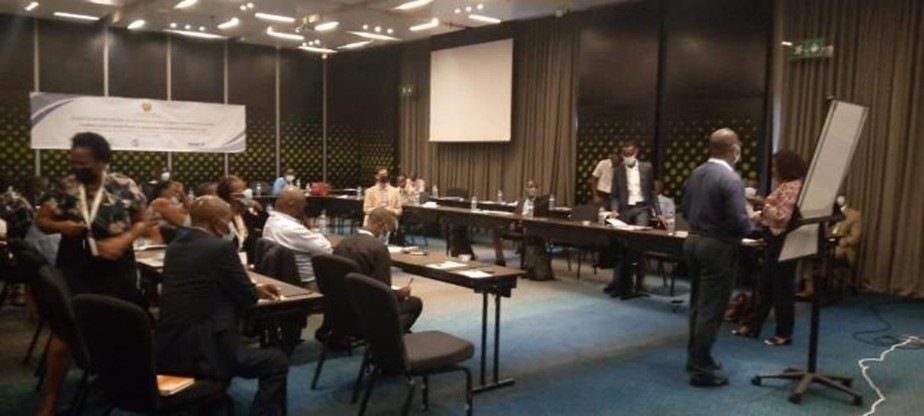 Conclusions
The project team found the varied approach to capacity building and the integration of training objectives throughout the implementation of the project particularly valuable. Although it required adaptation to project implementation, it was more effective than the one-off sessions with no follow-up: too often used in this type of project.
The remaining challenge is related to the brief duration of the project. This did not allow as much monitoring and follow-up of the technical knowledge transferred as we would have liked. Ideally, the project would have had a period of dedicated support to the government during the implementation of the methods learned, where the government would be in the driving seat and the project team was merely supporting. A sort of phased transfer. Unfortunately, with 9 months of project implementation, this was difficult to achieve.
The project team hopes that the operational sheets and training modules will provide the government with practical tools and that the Terms of Reference can be converted into a broader project that will enable the government to replicate learnings from this project.


Como o envolvimento do governo e as actividades de formação podem ajudar a promover a formalização e o desenvolvimento do sector da MAPE em Moçambique
Sem o envolvimento do governo, não pode haver uma estratégia de formalização da Mineração Artesanal e de Pequena Escala (MAPE) operacional. É por isso que a Levin Sources e a Alliance for Responsible Mining (ARM), em parceria com a Genesis Lda, integraram actividades de formação durante a implementação de um projecto que foi realizado em Moçambique como parte do Projecto de Assistência Técnica em Minas e Gás (MAGTAP) financiado pelo Banco Mundial .
Para o conseguir, trabalhamos com a dupla missão do projecto de implementar actividades centradas na formalização de áreas piloto ASM e no desenvolvimento de recomendações para um sistema de serviços de extensão.
Como descrito neste artigo, isto significou mudar o foco de uma sessão de formação tradicional e pontual para o desenvolvimento de um programa de ferramentas e actividades complementares que permitissem o envolvimento e aprendizagem contínuos dos interessados.
Para as actividades de capacitação, a equipa do projecto trabalhou principalmente com funcionários do departamento da MAPE (DEMAPE) na Direcção de Geologia e Minas (DNGM) do Ministério da Energia e Minas (MIREME) e com representantes das autoridades provinciais (SPI) e distritais (SDAE).
Este artigo é o terceiro da nossa série sobre o trabalho de formalização realizado como parte do projecto MAGTAP em Moçambique. Leia a apresentação geral do projecto [aqui] e os estudos de caso sobre o apoio às cooperativas em Inhambane, Tete e Zambézia [aqui].
Envolvimento e capacitação contínua durante a implementação do projecto
Considerando o curto prazo do projecto, e os seus ambiciosos objectivos, desde o início a equipa tentou identificar uma abordagem eficiente para as actividades de formação com o governo. A estratégia principal foi envolver os funcionarios da DEMAPE e da SPI/SDAE ao longo de toda a implementação das actividades.
Em termos prácticos, isto significou aumentar a parte do orçamento atribuída ao envolvimento dos funcionarios do governo e envolvê-los activamente na maioria das actividades do projecto.
A abordagem de envolvimento incluiu quatro componentes principais:
Os representantes governamentais tomaram parte no desenvolvimento participado de planos de acção específicos de cada cooperativa. A equipa do projecto sugeriu que os representantes da DEMAPE e SPI/SDAE acompanhassem todas as "acções estratégicas", que foram definidas como actividades chaves para o processo de formalização das cooperativas. Isto significou também desenvolver métodos e ferramentas técnicas (por exemplo, métodos de avaliação, recomendações técnicas, exercícios participativos) para ajudar a implementá-los.
Os funcionários governamentais estiveram envolvidos em todas as acções estratégicas, para que pudessem experimentar directamente ferramentas de apoio ao processo de formalização das cooperativas de MAPE. Observaram e contribuíram para a implementação de serviços de extensão por parte da equipa do projecto.
Para aproveitar ao máximo a participação dos colegas do governo, a equipa do projecto organizou briefings e reuniões de informação para apresentar os métodos e as actividades que o projecto estava a implementar.
Para concluir cada acção estratégica, além de entregar um relatório, os representantes do DEMAPE que tinham participado durante a acção estratégica, organizaram apresentações para os outros colegas do departamento que não tinham partecipado nas actividades, para partilhar os métodos aprendidos.
Entrega de fichas de operação
Formação de formadores
Seminários nacionais: Implementação da estratégia da MAPE e recomendações sobre serviços de extensões
Para captar os métodos e ferramentas utilizados pela equipa do projecto ao longo da implementação de serviços de extensão sobre as diferentes áreas temáticas (organizacional, jurídica, técnica, comercial, ambiental, social, etc.), a equipa do projecto desenvolveu fichas de operação. As fichas de operação são pequenos documentos, de natureza muito prática, que resumem os detalhes de cada actividade dentro dos planos de trabalho com as cooperativas mineiras. Explicam processos, métodos, ferramentas e resultados-chave. O governo poderá utilizá-los no futuro para replicar as actividades descritas e complementar os conhecimentos práticos que os funcionários governamentais adquiriram durante a participação no projecto.
No total, o projecto desenvolveu 13 fichas de operação ao longo da sua implementação.
Ao longo de uma semana de formação de formadores, cerca de 30 representantes das agências governamentais mais envolvidas no sector da MAPE, a nível nacional e provincial, aprenderam sobre saúde e segurança (H&S geral, resposta a emergências, ventilação, trabalho de retenção, e riscos eléctricos), processamento gravimétrico e detonação e uso de explosivos na extracção de pedras preciosas.
A formação incluiu sessões teóricas com demonstrações práticas utilizando o equipamento disponível. Por exemplo, os participantes puderam utilizar amostras de máquinas do Repositório Nacional do MIREME semelhantes as que iam ser entregue às cooperativas mineiras.
O projecto organizou dois seminários nacionais, que representaram oportunidades de desenvolvimento de capacidades estruturais para o governo. Os seminários também trouxeram oportunidades de discussão e intercâmbio entre representantes do governo.
1/ seminário nacional para reflectir sobre o quadro jurídico da MAPE, a estratégia de formalização e a sua implementação: Cerca de 30 participantes reflectiram sobre a estratégia nacional do governo para o desenvolvimento e formalização da MAPE, o documento sobre as boas práticas internacionais preparado pelo projecto e a revisão institucional e jurídica do sector da MAPE em Moçambique preparada pelo líder do projecto.
A revisão institucional e jurídica identificou limitações na actual legislação e na estrutura institucional que podem dificultar a formalização do sector da MAPE. Os participantes tiveram a oportunidade de discutir recomendações práticas para ultrapassar estes desafios.
Durante o seminário, os participantes identificaram lacunas em termos de conhecimento das partes interessadas sobre o conteúdo da estratégia nacional. Concluíram que a estratégia para o desenvolvimento e formalização da MAPE precisava de ser revista no seu formato, traduzida em português e promovida proactivamente não só a nível nacional, mas também a nível provincial e distrital.
2/ Seminário sobre as recomendações para um sistema de serviços de extensão. O segundo seminário durante as últimas semanas de implementação do projecto. Os participantes discutiram as recomendações práticas da equipa do projecto para reforçar e construir um sistema nacional de serviços de extensão, a ser implementado localmente. Os participantes analisaram a proposta em pormenor, analisando as oportunidades e limitações e oferecendo ideias adicionais. Todas estas foram integradas no relatório final de recomendações.
Durante o seminário, os participantes tiveram a oportunidade de aprender com a experiência do sector agrícola, onde os serviços de extensão têm sido implementados há muitos anos. Nesse sector, os extensionistas apoiam o desenvolvimento rural com enfoque nos agentes económicos que trabalham na agricultura. Muitas das experiências e o conceito de desenvolvimento rural são relevantes para o sector da MAPE.
Os participantes concluíram que o sector beneficiaria da criação de uma rede de agentes de serviços de extensão, com experiência generalista, que seriam capazes de conectar os mineiros a especialistas técnicos conforme necessário.
Após o seminário, a equipa do projecto produziu termos de referência para serviços de extensão para o sector da MAPE em Moçambique, que poderiam apoiar a sua implementação no futuro.
Conclusões
A equipa do projecto considerou particularmente valiosa a abordagem variada ao desenvolvimento de capacidades e à integração de objectivos de formação ao longo da implementação do projecto. Embora exigisse uma adaptação à implementação do projecto, foi mais eficaz do que as sessões pontuais sem qualquer seguimento, como é feito geralmente neste tipo de projecto.
O desafio restante está relacionado com a breve duração do projecto. Isto não permitiu tanto acompanhamento e seguimento dos conhecimentos técnicos transferidos como teríamos desejado. Idealmente, o projecto teria tido um período de apoio dedicado ao governo durante a implementação dos métodos aprendidos, em que o governo estaria a liderar as actividades e a equipa do projecto estaria meramente a apoiar. Uma espécie de transferência faseada. Infelizmente, com 9 meses de implementação do projecto, isto foi difícil de conseguir.
A equipa do projecto espera que as fichas de operação e os módulos de formação forneçam ao governo ferramentas práticas e que os Termos de Referência possam ser convertidos num projecto mais amplo que permita ao governo replicar os ensinamentos deste projecto.