One of the strategies used in the fight against Ebola in Sierra Leone is isolation of a 'suspected person'. This can be done as a result of symptoms shown or association with infected persons. This strategy is intended to break the chain of person-to-person contact that is responsible for most infections.
The term 'quarantine' will remain in the memories of Sierra Leoneans for many years to come, firmly associated with the memory of the outbreak itself.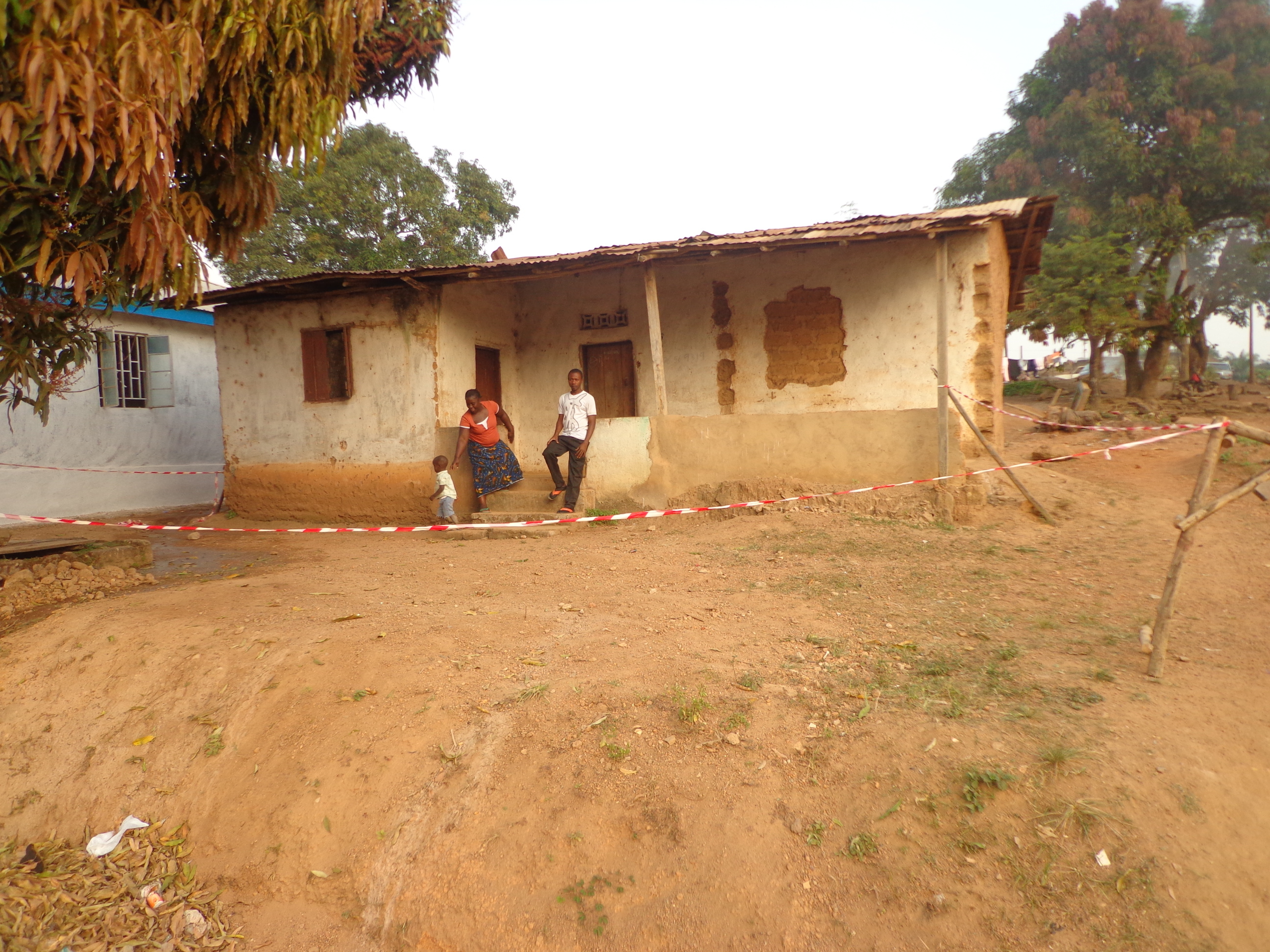 A Quarantined home in the Koidu City Vicinity
A house or an apartment is quarantined when a suspected person(s) is reported as either showing symptoms of the Ebola virus or confirmed to have been in physical contact with an infected person. The period of isolation is 21 days; the incubation period of the virus. During this period, the quarantined person(s) is/are completely kept away from direct interactions with any other person, including relatives. State or community authorities are officially responsible for the day-to-day welfare of such persons, providing food, sanitary materials, and medical care; including observation for Ebola symptoms. Security is provided to prevent the suspected person from interacting with other members of the community. If the suspected person becomes symptomatic he/she is supposed to be automatically moved to a more intense isolation unit, called a 'holding centre'. There, laboratory samples are taken to determine if the person has Ebola.
The scenario explained above is a 'should be' situation. Most people have heard stories of the difficulties faced in quarantined homes. Food supply is the first thing every quarantined home or person has something to say about. The food supplied to most people in quarantined homes is less than their normal supply, doesn't arrive on time, or is not provided at all. Confusion and concern are driven by conflicting reports of deaths where it is uncertain whether food poisoning or Ebola was the cause. The situation is exacerbated by incidents of quarantined persons being fed goods suspected to have expired, such as sardines. In one particular case, the same food was given to a cat, which died soon after.
The Chairman of the District Ebola Response Centre (DERC), Paramount Chief Paul Garber Saaquee, released a statement on the issue. He said that the key to ensuring that people remain in quarantined homes is the provision of food for them. He argued that there is no moral ground for detaining people if they are not fed properly.
The ill-management of quarantined persons and homes is driving people underground for fear of being discriminated against once their home is isolated. If food is provided unprepared then preparation becomes another problem since quarantined persons are not allowed to get fuel, supplies, or other necessary ingredients outside of the quarantined house. In cases where the food is prepared and then delivered, the people who are responsible for preparing the food have to acquire permission from the security personnel in charge; they report being afraid to go any closer than they have to due to the heavy handedness of the security personnel. A lady in one of the quarantined homes described how the food was thrown at them like pigs in the piggery.
Suspected persons are quarantined without any laboratory tests to determine their Ebola virus status. Since all quarantined persons are treated the same, they are housed together. On one of the daily discussion programmes on the disease, a medical doctor confirmed it may be possible for an Ebola-free person to contract the infection while living within a quarantined house.
A lady who was quarantined in October shared her experience with me:
Only one who has gone through it can understand the psychological pressure one goes through at the hands of your own community. There is a stigma attached to people in quarantined homes, regardless of whether they have contracted the Ebola virus or not. If you are not careful in handling it, it will be difficult to survive. Once associated with Ebola, you lose the confidence to freely associate with members of your society. As a result, after leaving quarantine some of our colleagues have decided to relocate to other communities.
The quarantine centres that were created to help in the fight against Ebola are becoming prisons with insufficient food. They may also serve as a potential source of transmission where not carefully managed. Efforts should not only be concentrated on the mobilisation of funds and supplies for people in quarantine homes; the welfare of such people needs careful consideration to maintain broad support for the effort to control the disease. Attention to medical needs, but also basic psychological, social, and human needs must be prioritised. Improvements must be made to strengthen monitoring, identification and transfer to treatment centre processes. These efforts will go as far to fight the disease as the numerous management plans and dollars already spent.